Want to find out a bit more about Adventure Life? Check out some of these great publications that have written articles about our tours. Browse through these brief summaries or click on the links below to read the full articles!

New York Times
Published: January 18, 2004
"Central America is still a new destination for many Americans, however, and even in Costa Rica independent vacations can be difficult, particularly if you're driving, because of the poor roads. So tours make sense. ....various smaller tour companies have sprung up to meet the demand for more specialized trips..."
..."Itineraries in Costa Rica, Belize and Guatemala are offered by Adventure Life Journeys, based in Missoula, Mont., which specializes in trips to Latin America. A 12-day tour departing April 2 visits Guatemala during Semana Santa, the holy week before Easter, when processions and huge puppets parade along streets decorated with dyed sawdust and flowers. Visits to Chichicastenango's colorful market, Lake Atitlán and Tikal are included, along with several days in the colonial city of Antigua, where much of the pageantry is centered. The trip includes stays in comfortable hotels and lodges (with breakfasts), along with in-country transportation except the flight between Guatemala City and Flores, near Tikal. A nine-day trip in Belize (with a side trip to Tikal), includes two nights at Glover's Reef, a coral atoll, or Ambergris Caye, with snorkeling, sea kayaking or windsurfing available, then three nights at a jungle lodge inland, with excursions along the river and to a Maya ruin. Information: (800) 344-6118 or www.adventure-life.com."

Newsweek
Getaways | Race For Survival
Published: February 10, 2003
Stay up late with biologists and half-ton leatherbacks. For a few nights at a private reserve, go to www.adventure-life.com.
Costa Rica Turtles and Rainforest:
http://www.adventure-life.com/costa_rica/costa_rica_tours/tour/TR-T8.php

The Vancouver Sun
Published: January 18, 2003
"We set out from our lodge in the early morning and, after a two-hour trek through the jungle, we arrived at the entrance to a beautiful, hourglass-shaped cave with a small stream flowing from its mouth. Locals referred to this cavern as Actun Tunichil Muknal, which means the Cave of the Stone Sepulchre, and we had come to probe some of the mysteries and secrets of the Mayan civilization. …"
Belize Rainforest and Ruins:
http://www.adventure-life.com/belize/belize_tours/tour/RR5.php

The Wall Street Journal Europe
Published: October 18, 2002
"...What's special? Six hundreds miles from the shores of Ecuador lie the storybook islands of the Galapagos, where Darwin first chronicled the evolutionary origins of the species. These volcanic islands at first appear barren and uninhabited until a 180-kilogram giant tortoise lumbers past and blue-footed boobies ponder their human visitors. In nearby bays, playful sea lions are said to nibble on snorkelers' flippers.
In the middle of the Pacific Ocean, the Galapagos are a stage on which the Earth's evolutionary forces play out unencumbered by the hectic pace of life in the world's more inhabited climes. But travelers on the "Adventure Life" Galapagos 10-day luxury yacht tour can enjoy the mystical islands in relaxed style aboard the double-sailed schooner Diamante..."
Galapagos Islands tours:
http://www.adventure-life.com/galapagos/galapagos.php

StarTribune
Published: August 18, 2002
"…A travel agency with experience in adventure trips can steer you to good boats. I found mine, the Sulidae, on line at http://www.adventure-life.com/galapagos/yachts/index.php, which also lists plusher boats. My seven-day, nine-island trip cost about $1,950 in a shared cabin last spring.…"

Outside Magazine
10 New Outfitted Trips for Families
Published: November 30, 2001
"With a stay at a private leatherback-turtle research facility south of Tortugero National Park, this eight-day Costa Rica Caribbean itinerary has a scientific bent. ... Kids will love accompanying biologists on their rounds to measure the giant turtles."
Turtles and Rainforest tour:
http://www.adventure-life.com/costa_rica/costa_rica_tours/tour/TR-T8.php


Caribbean Travel & Life
Published: September 30, 2001
"White-water rapids and eight- hour jungle hikes may not seem very romantic. But in Costa Rica, a magical netherworld where the air is cleaner, the greens are greener and life a little slower and sweet, Francisco and I see it differently!Jungle is sexy; cold showers and sleeping on the ground are not. Fortunately, Adventure Life Journeys offers us the Lost World by day and real beds by night!
Vigorous hikes are highlighted by bright-red frogs, armies of leaf-cutter ants and flame-colored heliconias dripping from the trees. We drink sweet water from streams and splash through rivers amid mahogany tree so tall we can't see the tops and so wide we hide behind the roots. Our guides toss ropes over a roaring waterfall; I'm too afraid to rappel down on my own, but I make it with the help of new friends! Over the next few days we gallop horses across banana plantations, and Francisco climbs trees while I admire from below. We laze on hammocks, drink wine, watch wildlife, wake to birdsong and live by candlelight. We get all the adventure and romancy we dreamed of! "
Beaches and Rainforest tour:
http://www.adventure-life.com/costa_rica/costa_rica_tours/tour/BR8.php

New York Times
Published: January 7, 2001
"... We booked a 17-day tour with Adventure Life Journeys,
a Montana-based company that specializes in Peru. When we arrived in Lima we were met by our guide, Fredy Manrique, and the next day departed for Pisco!As soon as we were airborne, we could see that the desert below us was traversed with faint lines as though it had been tilled by giant plows. Then, through the hazy heat, we saw a break in the lines and an indistinct shape. The pilot circled around to get a closer look. Still the design remained faint and unclear and only slightly darker in outline than its sandy background. The pilot shouted back that the mystery shape was a condor.
The nextfigures proved much more impressive. A monkey with a vast spiral tail was followed in short order by a hummingbird, a whale, a fox, and a waving man with an oddly shaped head, referred to as the owl man!"

Peru Panorama tour:
http://www.adventure-life.com/peru/peru_tours/tour/PP16.php


Marco Polo Magazine
Expedition Cruising in the Galapagos Islands
Published: November 30, 2000
"Only in the Galapagos Islands can you snorkel with a penguin on the equator as schools of spotted eagle rays glide beneath you and playful sea lions perform an underwater ballet. And the most amazing thing about this aquatic experience is that you're not an observer- you're an actor in the performance. Equipped with a mask and fins, you can dive and swirl effortlessly as you play with your new marine friends in the cool, clear water! IF YOU GO [contact] Adventure Life, 1-800-344-6118"
Galapagos Islands tours:
http://www.adventure-life.com/galapagos/galapagos.php

Missoulan
Published: January 16, 2000
"Morgan (Adventure Life Founder) uses a network of handpicked guides from the villages and tries to give his customers a trip immersed in the culture! Instead of joining a throng of Americans being bused from one tourist hot spot to the next before retiring for evenings at Western hotels, Schall (past client) described her tour as a busy schedule, but one with time for exploration and discovery away from the groups."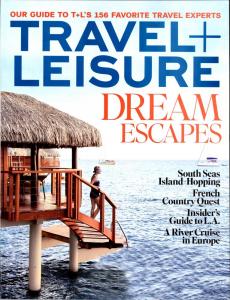 For the second year in a row, Travel + Leisure, has selected Adventure Life's CEO and Founder, Brian Morgan, as the go-to trip planner for
Galapagos
and
Peru travel
. Thousands of travel experts worldwide are screened for the exclusive A-List, making it one of the most reputable collections of travel specialists in the industry. We are honored!