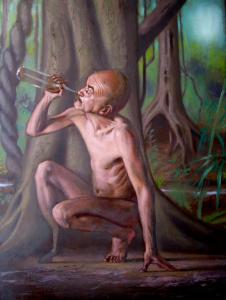 A little local legend, compliments of the Amazon...
The Chullachaqui is a shape-shifting gnome found in the
Amazon Rainforest
. According to local legend, Chullachaqui lures people into the Amazon by taking on the shape of their friend, an acquaintance or an inconspicuous child. The unassuming confidently follow the crafty Chullachaqui deep into the Amazon, never to be heard from again.
While able to take on any shape, human or animal, the Chullachaqui has a tell – a twisted, or club-like foot. This strange foot is the gnome's namesake; Chullachaqui come from the Quechua words meaning dissimilar or false-foot. Chullachaqui is recognized as both trouble-maker and protector of the Amazon. Locals who have claimed to talk with Chullachaqui state he heeds warning about the destruction of the rainforest.
Try and spot the Chullachaqui yourself on an
Amazon tour
!