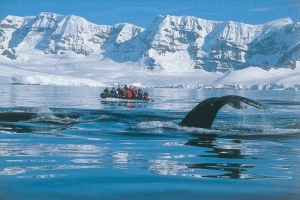 I'll admit I've occasionally been skeptical of the idea of expedition cruising. Sure, you're traveling to Antarctica or the depths of the Amazon rainforest, but it's highly unlikely you're going to get stuck in pack ice like Ernest Shackleton or disappear into the jungle in search of a lost city of gold. And when one past passenger asked if there were any more undiscovered islands, the question was funny both for the obvious reason and because the trip was designed to visit particular sites, not to discover uncharted islands. So in the end, it seemed to me, an expedition cruise was far more cruise than expedition.
Well, I hate to say it, but I was wrong. On the Marina Svetaeva's recent
Historic Huts and Heroes
cruise, passengers and expedition leaders on a helicopter excursion discovered a cache of food left nearly 100 years ago by the famous Mawson Australian Antarctic Expedition. The kerosene tin they found contained 3 calico bags which appeared to contain flour and pemmican. The find is particularly significant because it extends the boundary of the archaeological zone around the historic huts used by Douglas Mawson and his companions from 1911 – 1914. This means an even larger area will be protected in the future. The onboard historian confirmed that the Marina Svetaeva's passengers were most likely the first people to see this cache since the people who left it there.
I thought just about everything had already been mapped and discovered, but it seems there are still some "undiscovered islands" one can find on an expedition cruise. And even if the ship won't end up trapped in the pack ice like Shackleton's, I think the discovery of an artifact no one has seen for 100 years would probably be enough adventure for me anyway.
For more information about the find, please visit:
http://www.auroraexpeditions.com.au/site/news.aspx?id=91