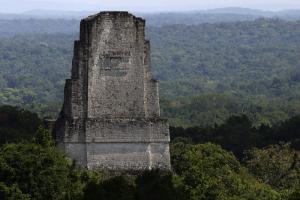 My husband and I just returned from a visit to the ancient Maya city of Tikal in Guatemala. We were staying in Belize at Pook's Hill Jungle Lodge and planning a day excursion across the boarder into Guatemala. Before we went, we were informed told us of a recent incident between the Guatemalan and Mexican drug lords -- which occurred just days before we were planning on visiting the Peten region. All local sources were contacted, and reports were consistent that the incident was isolated to those involved in the drug trade. Matt and I discussed the option of substituting another tour, but we felt comfortable and reassured that it was a safe environment.
We were so happy that we made this choice the next day. Guatemala is a beautiful country and so different from Belize, but equally fascinating in history and culture. We noticed a bit more security present as we drove and had to go through two checkpoints along the highway. This may, however, have been due to a visit from the President to the boarder town nearby. Overall, the policeman were polite and quickly waved us through as soon as they realized we were tourists with starry eyes fixed on the road ahead to Tikal. The ancient Maya city of Tikal was not to disappoint. We took away picturesque memories of our time spent high above the forest on Temple IV. Our conversations with Tikal park guide Fransisco about the history and culture of the Maya will stick with us as well. We would not have traded that experience for the world.
And now for the official report on the region. The Guatemalan tourism board (IGUAT) and the chamber of tourism (CAMTUR) have released the following joint statement, reaffirming travel to the Peten is both safe and recommended. An excerpt from the statement follows:
Tourism and commercial activities are developing normally in Guatemala and in the Peten region. Airport services, immigration and customs are fully operational. Within the first 24 hours some itineraries were temporarily modified in accordance with recommendations of the competent authorities. Today, these itineraries are being operated regularly. Security forces have stepped up surveillance on major touristic routes and destinations in the area, so the visit to the region is recommended and safe for domestic and foreign visitors.
The complete statement can be found on the
Guatemala tourism board's website
(IGUAT). If you have any questions on
Guatemala travel
, please
contact Adventure Life
.