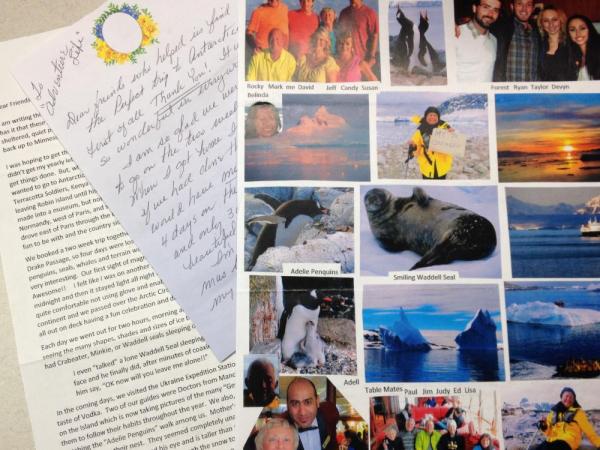 Here at the
Adventure Life
office, we absolutely love hearing from our travelers! In this digital day and age, it especially excites us to get "snail mail" correspondence. Such a rarity, it is nice to get an envelope containing something personal - like this letter, hand-written note, and photo collage from Adventure Lifer, Jeanette.
Her note starts, "Dear friends who helped us find the perfect trip to Antarctica! First of all THANK YOU! It was so wonderful in every way." Jeanette successfully checked off her SEVENTH continent with this voyage! She also made lasting memories, met amazing people, had unreal wildlife encounters, and learned so much in this magical place. As a well-seasoned world traveler, she still seemed thoroughly impressed with the Great White Continent and her overall experience.
Whether your next dream is an
Antarctica expedition
or an adventure somewhere else in the world, we can help you plan your perfect trip! Just please remember to write us about it when you get home...