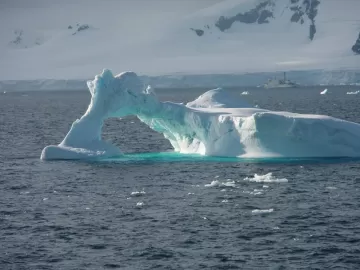 What a day! Today we entered Antarctic Sound, also known as Iceberg Alley. And what a place it is! Gigantic table icebergs float everywhere, and on smaller 'bergs Adelie penguins perch in the dozens. I've seen one seal as well and this morning a whale rose near the ship. The ice is getting thicker as we enter the Weddell Sea and the ship now shakes occasionally with the impact.
Less dramatic happenings include a few games of ping pong as the ship rocked and rolled through the end of the Drake Passage, and I tried out some of the exercise equipment earlier this morning.
Tomorrow Snow Hill and the Emperor Penguins! Much depends on improving visibility, so the whole ship has our collective fingers crossed.