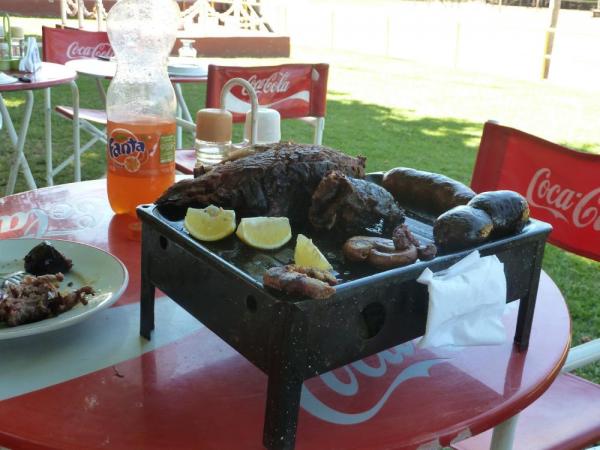 Our airline luck changed this morning. After a rough flight last night on a plane that should have been retired, we had a fantastic, brand new plane this morning and the flight was ON TIME. As we approached Iguazu, our pilot announced that he had a request to fly over the falls so he turned off the seat belt sign and let us all crowd over to the ride side (is that safe?) to get a gorgeous, panoramic view of the falls... Absolutely stunning!!!
Jungle Lodge, our hotel, is a paradise. Rooms are spacious with air conditioning, a full kitchen, dining table, and private balcony. The setting is lovely as we are backed up against a creek running through the trees behind the lodge. We can hear the creek as we are lying in bed. The lodge has a bar with a pool table, ping pong, foosball and card table set just above a spacious pool. The staff is wonderful and offered to deliver breakfast to our room.
After a short nap, we were picked up for our Iguazu Forest adventure. We drove through Guarani villages to the jungle where we went zip lining and rappelling down a small waterfall. There were too many of us to see much wildlife so it was really more of an adventure tour. The zipline has 3 cables starting at 20 meters and working gradually down from there. The waterfall is 15 meters high and they took all the standard precautions. Both activities were fun, but not especially unique.
We returned hungry and asked the hotel for recommendations. They suggested Aqua where we had a fantastic meal (see pictures). Ryan had the Pacu, a local river fish that is really fatty and melts in your mouth. I had the salmon. For appetizer, I ordered an Aqua Caprese salad that was phenomenal- mozzarella cheese covered in a thin batter with almond slices and fried in balls that was served atop 4 large sundried tomatoes sititng in a base of pesto and olive oil. Perfecto!
Dessert was also exquisite. Again, I went with the special and tried the Aqua Chocolate - white chocolate mousse atop a thin chocolate cake that is drizzled with blackberry compote- YUM! Add some great Argentinian Malbec and dinner was a highlight of the day!