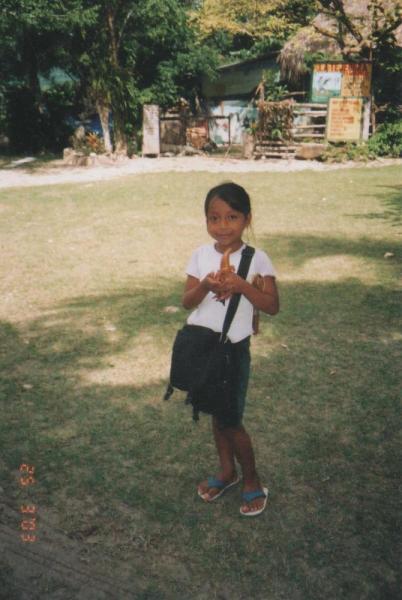 This morning, Ray asked who would like to take a trail ride and I have always loved horses and used to own a couple so I was ready for this adventure. Six of us went horseback riding through the jungle. My horse was named Frank and he was very nice. We got to lope our horses on an open field and not do the slow walk which people usually do on trail rides. Theresa, from D.C., had never been on a horse before, but she was game to try. Sarah was on a gray nag who would hardly move.
On our way back to the lodge, my cap caught a five foot loose tree limb and it hit Frank's rump. He gave a small jump, but was very calm. When I returned from our trip, I starting wanting to own a horse again which turned out to be a big mistake. That is another story for another time.
After lunch, Vickie, Sarah, Shanni and I tubed the Roaring River. Later, I sat on the verandah and read while it rained. There were several hummingbird feeders around the verandah and they whizzed by my head. I found out the name of that wonderful hot tea was Red Rose.
It rained and rained. Due to 12 hours of rain, our trip to the Actun Tunichil Muknal cave was canceled. Instead, we loaded into the Land Rover (which was a little iffy) and drove to Barton Creek Cave. On the way, we passed a Mennonite farm with people working outside. We had car trouble on the way (I said it was iffy) and William (driver) and Ben crawled under it and did some tinkering. They got it running again and we had to cross a raging creek. Ben gunned the Rover and we got across. I just knew we would get stuck and have to wade out.
Once there, we put on life jackets and got into canoes. Each canoe had a headlight with a large battery. It was an awesome experience to canoe in the completely dark cave. Several times our battery went out due to a short. We had two canoes so we just stayed close to the other canoe. There were many wonderful stalagtites and in some places, the roof of the cave was 150 feet high. The lodge had sent a picnic lunch with us and after caving, we ate and then started back to Pook's Hill. We happened upon a restaurant on the way back and stopped for ice cream. I drank a cappuccino which was the first I had had since leaving home. That was like an oasis for me. Another wonderful evening meal and visiting with the other travelers and back to our lodge to repack as we were to go to Ambergris Caye the following day.