Fall in love with the region's sun, sand, and culture. Delight yourself with deep volcanic lakes, dense rainforests, waterfalls, and small river courses that form the primordial backdrop of the island's sugar cane fields and spice plantations. The scent of cloves, cinnamon, and nutmeg hang in the air wherever you go.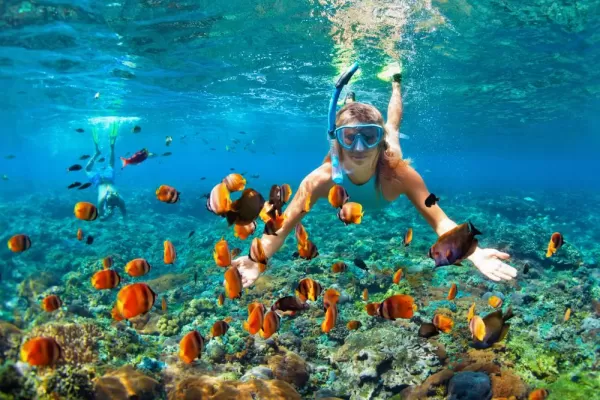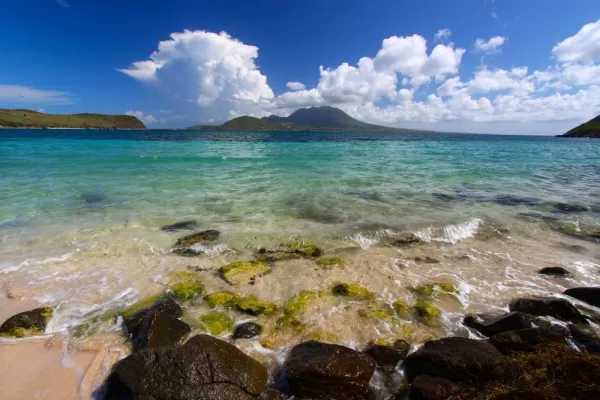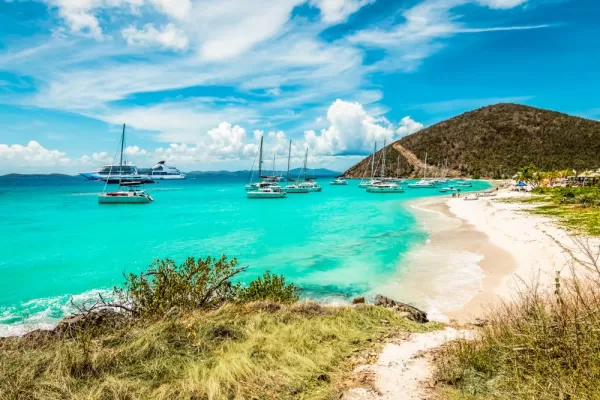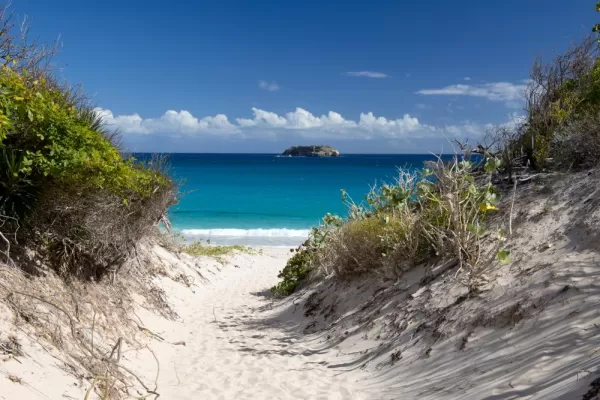 See St Barths' luxurious lifestyle with a Caribbean laissez-faire approach
Admire the beautiful islands in British Virgin Islands
Discover "The Baths", one of nature's most beautiful oddities
Observe delightful sunsets as the ship heads towards the Caribbean
Full Itinerary
Expand All
Day 1: Philipsburg, St Maarten | Embark
Arrive in Philipsburg and embark on Sea Cloud
Day 2: North Sound, Virgin Gorda
1 Breakfast, 1 Lunch, 1 Dinner
Explorers and privateers once used to cross swords in the Sir Francis Drake Channel. Nowadays the sea around the British Virgin Islands is one of the world's best sailing areas. Heavenly bays, gorgeous beaches, idyllic anchoring spots, smart yacht clubs and charming little beach bars make the island a popular haunt for sailors. On Virgin Gorda, once called "The Fat Virgin" by Columbus due to its shape, you can find "The Baths", one of nature's most beautiful oddities, in the National Park. Ground to a sphere and polished to a shine, the huge granite formations on the beach and in the water create a multi-branched labyrinth of giant boulders.
Day 3: The Bight Bay, Norman Island
Day 4: At Sea
Day 5: Terre-de-Haut, Îles des Saintes
1 Breakfast, 1 Lunch, 1 Dinner
Îles des Saintes is a small archipelago that was disputed for a long time until it finally became French in 1816. In the charming main town of Terre-de-Haut, you can take a delightful stroll along the waterside promenade. Boutiques, cafés, bars, and restaurants invite you to browse and spend some time here. The 'savior vivre' takes place against a backdrop lit up in all the pastel shades of the Caribbean. Fort Napoleon is set high above the bay and your climb up to it is rewarded by a spectacular panoramic view. On the other side of the island, the Plage de Pompierre invites you to enjoy a dip in the sea and sunbathe on the beach.
Day 6: Soufrière
1 Breakfast, 1 Lunch, 1 Dinner
Two famous volcanic cones are indisputably the emblem of St Lucia and have been designated as UNESCO World Heritage Sites. Gros and Petit Piton tower over the southern, windward side of the island and, in Soufrière, seem close enough to touch. The volcanoes have in fact long been extinct, but the sulfur springs demonstrate the power of the earth's core and still bubble up. In the Botanical Gardens, natural abundance is combined with artistic arrangements to create a colorful tropical paradise. Some people claim that Josephine, who later became Napoleon's wife, used to bathe in the little pool in the garden.
Day 7-8: St. John's, Antigua
2 Breakfasts, 2 Lunches, 2 Dinners
St John's is the capital of this small island in the Antilles, a former British colony. From Shirley Heights in the south, you have a fantastic view over the English Harbour and Nelson's Dockyard, an old restored shipyard named after the Admiral. Visit Betty's Hope, a restored sugar mill where "white gold" would have been processed during the island's bitter past. Now sweet black pineapples grow in the gently rolling landscape around Boggy Peak. The coast is lined with bays and lagoons, dazzling white palm-filled beaches - one for every day of the year - and an almost unbroken coral reef.
Day 9: Chatham Bay, Union Island
1 Breakfast, 1 Lunch, 1 Dinner
Right in the south of the Grenadines are Union Island and the Tobago Cays. Union Island was given the evocative name "the Tahiti of the West Indies" thanks to its volcanic silhouette. Four small uninhabited islands, surrounded by a protective horseshoe-shaped coral reef, form the Tobago Cays. The Horseshoe Reef holds the Atlantic swell at bay and its unique animal and plant life make it an ideal place for snorkelling. The lagoon between the islets shimmers in all shades from turquoise through to emerald green and invites you to take a dip at the fantastic beaches.
Day 10: Port Elizabeth, Bequia
1 Breakfast, 1 Lunch, 1 Dinner
Bequia is actually the largest island in the Grenadines, but still small and tranquil at just 18 square kilometers (87 square miles) in size. Elegant sailing yachts sway in the natural shelter of Admiralty Bay, while in lovely Port Elizabeth, with its attractive beach bars, you are right in the heart of a lifestyle that likes to take things easy. You can find Princess Margaret Beach just nearby, named because it was once visited by the British royal. On the eastern coast, you can find the Old Hegg Turtle Sanctuary which focuses on rearing and caring for endangered turtles.
Day 11-12: Cabrits, Dominica
2 Breakfasts, 2 Lunches, 2 Dinners
Dominica, nicknamed the "Nature Isle" of the Caribbean, is one of the most untouched of the Windward Islands. It boasts some of the highest mountains in the Lesser Antilles, as well as many beautiful national parks. Its interior is characterized by thick virgin forest, where rivers plunge into the depths and tiny streams wind through the jungle. Two extinct volcanoes are at the center of the Cabrits National Park and, recaptured by nature, the former strategically important Fort Stanley appears like a picturesque backdrop in the heart of the jungle.
Day 13: Charlestown, Nevis
Day 14: Gustavia, St Barthélemy
1 Breakfast, 1 Lunch, 1 Dinner
St Barthélemy, affectionately known as St Barths by most, had already had many "owners" before the Lesser Antilles were acquired by France in 1877. When the first estate was acquired by the banker David Rockefeller in 1957, the island's future was finally sealed. It became a refuge for the international jet set and an elegant holiday paradise for many Hollywood stars. For over 40 years, St Barths has cultivated a luxurious lifestyle with a Caribbean laissez-faire approach. You can stroll through the charming main town of Gustavia, whose beautifully restored houses and colonial facades look out over the sea with its elegant superyachts, browse in the shops for precious items, or enjoy a sundowner in the picturesque harbor surrounded by clusters of high-class bars and restaurants.
Day 15: Philipsburg | Disembark
Disembark after breakfast.
Dates & Prices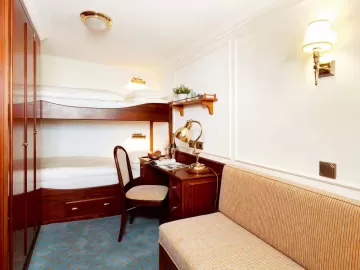 These approx. 9.5 m2/102 sq ft cabins with their upper and lower single beds (each 80 cm x 200 cm) once accommodated the ship's officers, and their original features exude a romantic charm. These cabins can be ventilated with fresh air both day and night as the cabin door leads directly to the Promenade Deck beneath the bridge.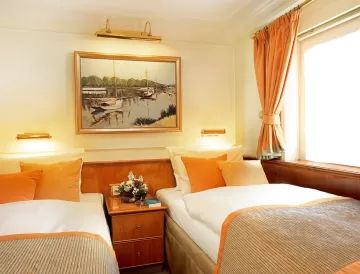 These cabins are each approx. 10.5 m2/113 sq ft and located on the Promenade Deck. They are furnished similarly to Cat. 3 cabins.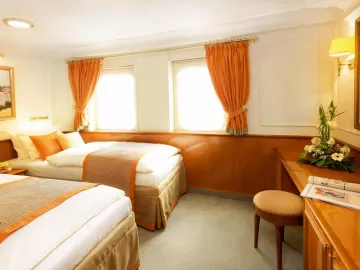 Located on the Promenade Deck, each of these outside cabins also features panorama windows, a marble bathroom with a fitted shower and a substantially sized wardrobe. They are approx. 12.5 m2/135 sq ft in size with two single beds (each 80 cm x 200 cm).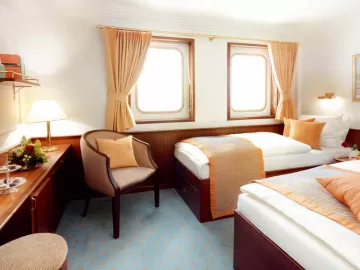 Each of these cabins features a marble bathroom with a fitted shower, two single beds (each 80 cm x 200 cm) which can be placed together, a substantially sized wardrobe and additional built-in storage space. Their location on the Captain's and Lido Deck and their design, featuring two panorama windows, mean these approx. 13.5 m2/145 sq ft cabins feel extremely bright.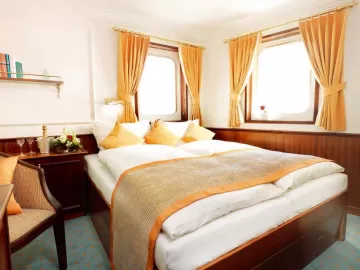 These two double-bed cabins are located on the Captain's and Lido Deck and feature unique corner panorama windows. Approx. 13 m2/140 sq ft in size, they offer a substantial wardrobe, a double bed with two mattresses (each 80 cm x 200 cm) and a spacious, elegant bathroom with a fitted shower.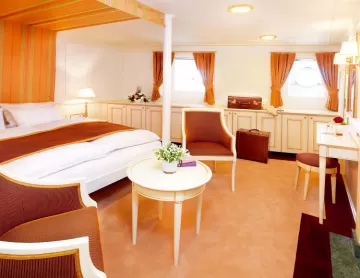 Warm and bright tones dominate these approx. 18-20 m2/198-215 sq ft deluxe outside cabins fitted with a double bed (160 cm x 200 cm) The cabins feature a modern elegance, generous storage space and a walk-in closet and a marble bathroom.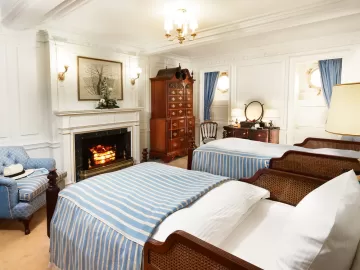 Main Deck. Portholes, two single beds or king bed with two separate mattresses, one or two chairs, nightstand, decorative marble fireplace, walk-in closet, safe, A/C, private bath with shower or tub.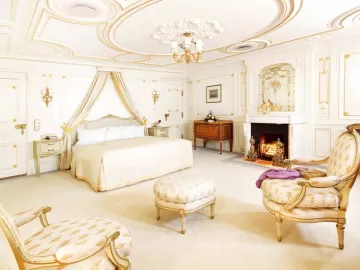 Main Deck. Portholes, large double bed, two armchairs, antique nightstands, table or antique secretary, decorative marble fireplace, desk, walk-in closet, safe, A/C, private bath with tub and portholes.
Notes
Cruise Rates Include:
Beautifully appointed cabin in the selected category
Welcoming bottle of champagne in your cabin
All meals from early-bird breakfast to the exquisite 4-course dinner menu with a choice of the main course
5-course gala dinner during the cruise
Welcome and farewell cocktail with champagne
Selected wines and beers thoughtfully chosen to complement lunch and dinner
All soft drinks and juices throughout the cruise
All alcohol-free coffee and tea specialties
Bottled water on the excursions
Fresh fruit basket in your cabin, replenished daily
E-mails can be sent free of charge from the on-board laptop
English-speaking tour guide
Travel documents with detailed destination information
All port fees
Use of watersports facilities such as snorkeling equipment (weather permitting).
Cruise Rates Exclude:
Shore excursions. Contact us for pricing.
Airfare
Tips
Excess luggage (allowance is up to 40 kg per passenger)
Additional meals and beverages (so far as not expressly included)
Other personal expenses
Transfers
Inquire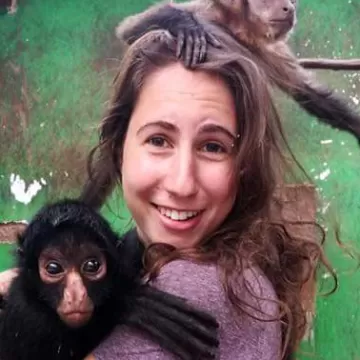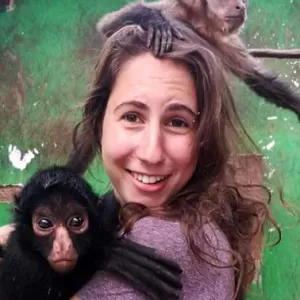 We Love to Talk Travel
Call
1.800.344.6118
or
Chat Now
Our guide and driver were very good with their knowledge and were very helpful with our questions. It was a very pleasant visit that would have been impossible to do on our own. Hotels and restaurants were fantastic. The special places we got to go to, like the kitchens, were great. Enjoyed the entire trip!
Meyer Smolen