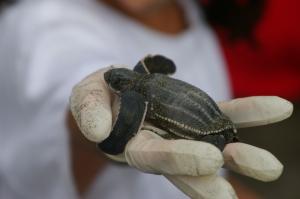 The Trip:
Turtles and Rainforest 8-day Costa Rica Tour
The
Pacuare Nature Reserve
, or Reserva Pacuare, was established by the Endangered Wildlife Trust in 1989 and protects 800 hectares of lowland tropical rainforest and 6 km of deserted beach on Costa Rica's Caribbean coast.
The special mission of the reserve has been to protect the
Leatherback Turtles
, which nest along its beach - one of the most important nesting sites in Central America for this critically endangered species. March to June is the nesting season for these giant turtles and from June to September Green turtles also nest here, though in lesser numbers.
While staying at the reserve, travelers have the opportunity to join biologists on their turtle rounds. During nesting season, your job is to walk the beach looking for leatherbacks laying eggs. When you find one, you'll wait with the researcher until the turtle is done laying eggs. Then, you'll have the chance to approach the turtle and assist in measuring and tagging it before the giant leatherback returns to the sea. Turtle egg poachers are a major threat to the survival of leatherbacks, so your next job is to carefully dig up the eggs and rebury them in another location so poachers cannot find the nest.
When the turtles begin to hatch later in the season, you'll have the chance to observe dozens and sometimes hundreds of baby leatherbacks scratching their way to the surface and making their way into the surf. The process is grueling. Hatchlings at the top of a nest often pack the sand below them so that their siblings cannot escape to the surface. This means that in the morning you might be invited to play midwife to these trapped baby turtles. By loosening the sand in certain nests, you allow hatchlings at the bottom a chance to escape to the sea to begin their lives. While the leatherbacks are hatching, 250 pound green turtles come to these same beaches to lay their eggs, and visitors will be out searching for these turtles, measuring, tagging, and hiding the nests of these endangered turtles too.
Click here to learn more about this
Costa Rica trip
and how you can join scientists at the Pacuare Reserve in protecting Leatherback turtles.