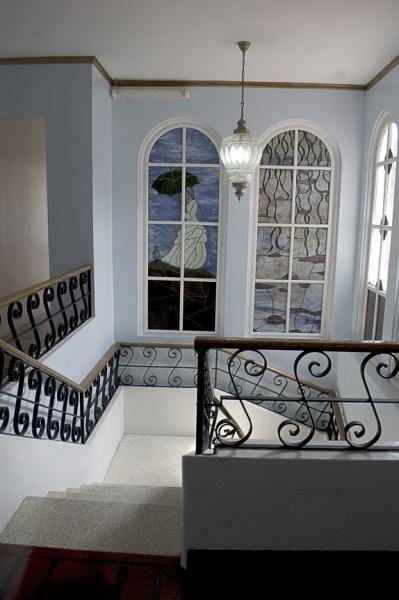 We met our guide Jeffery in the morning for our trip to La Fortuna. We stopped for lunch and as we ate we heard the rumble of Arenal and saw it's plume rise into the sky...our first sighting of it's power, certainly not our last. On our way to Arenal Observatory Lodge we stopped at La Fortuna Waterfalls for a hike that left us sweaty in the heat of Costa Rica in August. Ah...but much to our enjoyment the La Fortuna Waterfalls supplied refreshing relief as we swam around in it's cool pools.
Upon entering our room at the Arenal Observatory Lodge my breath was taken by this exquisite room with view. And what a view...gorgeous! Gardens with exotic birds and flowers in the forground and in the background the opposing volcano. A juxtaposition of sight and sound.
Speaking of sound, here was the first time I heard the Howler Monkey. In our room in the evening the unfamiliar sound left me wondering, what in the world? It wasn't until the next morning when Jeffery told me it was a Howler Monkey. And Howler Monkeys we heard, along with bird songs, I knew we were in the jungle.