La Mirage Garden Hotel and Spa - the only Five Star Hotel in the Province of Imbabura and only member of the elite international Relais & Chateaux Chain in the entire country - welcomes you to step into a magic atmosphere and enjoy traditional Ecuadorian Hospitality on a trip to Ecuador.

Perched on an Andean hillside a 2 hours drive north of Quito, LA MIRAGE is a contemporary resort built on the grounds of a 200 year old Hacienda in the year 1985. Fragrant hummingbird-filled gardens, 23 large exquisitely furnished rooms and suites, impeccable service, and gourmet food compromise the package that is the LA MIRAGE experience. It is the details of this resort that secure its position in the esteemed Relais & Chateaux Association, which stand for the 5 C's: Calm, Charm, Character, Courtesy and Cuisine. La Mirage has been the only member in Ecuador since 1997.

Special Occasions
Whether it be for an anniversary, wedding, celebration or special occasion, offer your friends or your nearest and dearest an exceptional moment of well-being and charm thanks to La Mirage Garden Hotel & Spa, the only member of the Relais & Chateaux Association in Ecuador since 1997. Available for: Accommodations, Spa or Restaurant Services.

Spa
The elegant and unique covered Pool and Spa Area, should not be missed. La Mirage Spa offers a large range of different types of Massages and Treatments, including Reflexology and, Aromatherapy.

La Mirage is happy to introduce the healing powers of a Female Shaman who has inherited years of experience from her father, a recognized Shaman of his own in this region. The Purification room at La Mirage is oriented towards the established indigenous healing practice for Body, Soul and Spirit.

Accommodations
23 large, exquisitely furnished and unique Rooms and Suites –no two alike- all with an eclectic blend of local and European Pieces of Art. They have Fireplaces, a separate Sitting Area and all the amenities one would require. Nightly Turn-down Service.

Thanks to a bit of architectural wizardry, and lavish landscaping, each of the twenty three unique rooms and suites - no two alike - is laid out so that you gaze at the gardens instead of at the room next door. One unit may be L-shaped with crimson walls, while another will be decked
out with a king-sized canopy bed and golden accents. Additionally, bedding is available in Queen, Twin and Queen Twin. Also, a 2 bedroom 2 bath suite can be offered. Comfortable large bathrooms with shower and all the amenities one would require.

The furnishings are an eclectic blend of local and European pieces of art, all distinctive, yet cozy. They have a separate sitting area, and a fireplace. A digital Phone system, High Speed Internet Access, a personal safe and a Color TV with local channels and cable TV complement each accommodation.

Unfortunately, No Roll-A-Ways or Pull-Out Sofas are available. Fresh cut flower arrangements in your room or suite await your arrival.

Dining
During an Ecuador tour, enjoy Breakfast and Lunch in the Hotel's glass pavilions on the lawn while watching peacocks strolling and hummingbirds flying by.

The select four course a la carte Gourmet Dinner (included in the price of your stay) may be enjoyed with impeccable service in the Main Dining Room.

After dinner you will be asked if you want to have your fireplace lit. If your reply is yes, it will be crackling by the time you get to your suite.

Gardens
Wander through the extraordinary fragrant hummingbird-filled gardens, where plants and flowers grow to prehistoric proportions. Dahlias, Bougainvillea, Hibiscus, Roses and Orchids are just a small listing of
the flowers you will find. Hanging baskets dangle from the trees to add to the lushness. The scent of flowers on the breeze is so heady it can stop you on your tracks.

Additional Services

*Condor Park: Besides a variety of birds you will be able to see the famous Condors of the Andes. They are in danger of extinction but due to a private organization it is thought that the project will be successful in reproducing Condors.

*Elaboration of handicrafts: Visit the Weavers of Peguche as well as the woodcarvers in San Antonio and the extensive variety of leather goods in Cotacachi.

*Guided Horse Riding: Though the indigenous communities of San Miguel, Batan and San Pedro. Spectacular scenery of the Cotacachi/Imbabura Valley. A 2 hours trip or longer is recommend; but not obligatory. However 1 hour minimum is required.

*Hiking around the Cuicocha Crater Lake: View beautiful vegetation in the National Park Cotacachi - Cayapas when
hiking around the Volcano Crater Lake. Guided hike of approximately 4 to 5 hours.

*Lluman Workshops: Most of the workshops display reasonably priced hats to suit international fashion trends and work with ready - made felted wool from Quito.

*Museums of the Cultures Cotacachi: This small Museum located in the heart of town illustrates the rich History,
Culture and Evolution of the Indigenous and Mestizos Habitants of the city.

*Otavalo Indian Market: The most famous Indigenous Market of Ecuador is located in Otavalo. It is open every day of the week and offers a large and impressive variety of all kinds of Ecuadorian handicrafts.

*San Pablo Lake: This lake is located at the foot of the Imbabura Mountain. A variety of water sports are available or one can just take a boat ride around the lake, enjoying the calm and the scenery.

*Provincial Capital - City of Ibarra: Well-known as the "White City" it still shows many constructions in the Spanish Style. Rich in Culture, History and Legends. You may wish to visit the Yahuarcocha Lake, a few minutes away by taxi from the city center.

*Walk to the San Miguel Neighborhood: Discover country-side life at its purest when walking through the indigenous neighborhoods. 1 to 2 hours.

*Weavings: Peguche is recognized for its skilled artisans that knit in the traditional Spanish Treadle Looms, while others are experts in producing beautiful Wall hangings and lovely Woolen Sweaters.
Inquire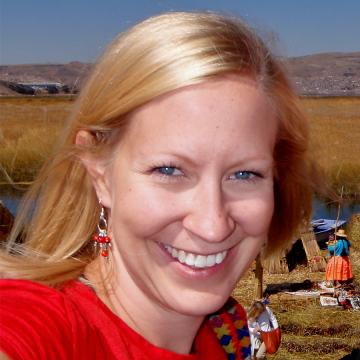 We Love to Talk Travel
Call
1.800.344.6118
or
Chat Now
The trip was terrific with great planning on your part. Most of the adventures were not mainstream and somewhat off the beaten path which made it especially enjoyable!! We felt taken care of and you all were readily available to respond to questions and issues. I would highly recommend your company and friends have already expressed interest based on our pictures and excitement.
Gale Cantor