One of the greatest joys of traveling is learning about and experiencing different cultures and customs. Stepping outside of my comfort zone and experiencing beyond what I consider "normal" is thrilling. From food, to transportation, to weather, I found a few specific things most fascinating during my travels in Ecuador. These Ecuadorian customs and norms are things you'll likely experience during your travels too!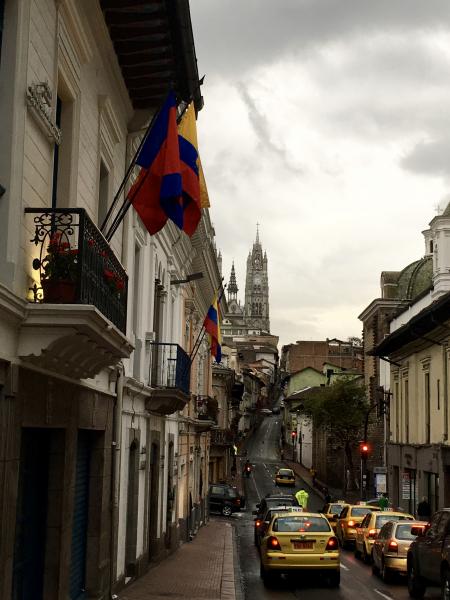 Toilet Paper
: While some people may find this subject slightly uncomfortable to discuss, it's an important one! Be prepared to throw your toilet paper in the trash, not the actual toilet. This will apply for hotels, cruises, restaurants, and anywhere else you may venture. The plumbing in Ecuador is simply not equipped to handle the flushing of toilet paper.  This practice is customary in nearly all of Latin America as well. In an effort to be extra prepared, some travelers even pack a roll of toilet paper to bring along with them.
Driving
: The rules of the road in Ecuador are nearly impossible to figure out. At most, the lines & lanes are general guidelines. While traveling in Ecuador, you'll encounter an interesting system of headlight flashing and honking that serve as the rules. Despite multiple cars in one lane, no use of blinkers, and crammed roadways, the phenomenon of "road rage" was virtually non-existent. This was especially easy to see in the larger cities, such as Quito. While I wouldn't dare attempt to drive myself, it was impressive to see how effective their system of controlled chaos was. In an effort to help control the chaos and traffic in large cities, Ecuador has even resulted to instated a law in which certain cars are not allowed to enter the highways on certain days, during certain hours. For instance, any car with a license plate that ends in the number "1" or "2" would be ticketed if found on the road during rush hour traffic.
Weather
: Visiting Ecuador in April, I must admit I was a bit nervous about the weather. However, even in the height of the wet season, the weather was beautiful.  During my travels, the weather channels predicted storms every single day. This had me a bit concerned originally, but thankfully, we only encountered little rain and a great deal of sunshine. All of the guides and locals agreed that if there is one thing you can count on, it's that the weather predictions are never accurate! It's safe to assume you may encounter a brief rain shower here and there, but it shouldn't put any damper on your trip. 
Currency:
Credit cards were widely accepted, which was quite convenient and ensured that I never had to carry too much cash. However, with cash purchases, be sure to have small bills handy. Ten dollar denominations and under are great. With larger bills, $20s, it was very difficult to get change back. Majority of restaurants and merchants have a limited supply of cash on-hand and are not prepared for these larger denominations.