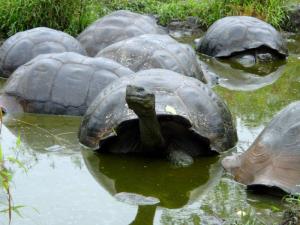 Earlier this year, the
Galapagos National Park Service
(GNPS) issued a notice to all Galapagos boat operators that they must start operating 15-day itineraries. Original announcements stated all boats would adhere to the new 15-day itineraries as early as Feb. 1, 2011 -- later reports pushed the official effective date to Jan. 1, 2012 to allow more lead time for boats to make changes.
With the changes already on the horizon, however, many Galapagos yachts are voluntarily moving forward with the changes and operating the new 15-day itinerary in 2011, as originally proposed. Boats that are moving forward on this 15-day itinerary are hoping to secure preferential and the most sought-after itineraries for their clients. Travelers have the option of booking the full 15-days ... or, depending on the boat, any length from 4 to 15 day itineraries. The new itineraries should not visit any site more than once.
Why the Change?
The protection of the islands is the foremost concern for all parties involved. This new itinerary project is designed specifically around preservation of the islands. The islands continue to wow travelers, and along with their fame, their number of visitors has increased dramatically over the past few decades. This lengthened itinerary will spread travelers out -- decreasing visitation to the most heavily visited sites and allow the opportunity for travelers to visit some of those lesser-explored regions of the islands.
The
International Galapagos Tour Operators Association
(IGTOA) states:
The purpose of this measure was to cut visitation at 15 heavily used sites, give equal access to all boats at sites, increase the use of underused sites, enhance the visitor experience, reduce accidents, and reduce the total number of visitors by cutting out shorter itineraries.
To break it down to numbers - implementation of this measure will reduce visitors to some sites by 50%. The goal is to enhance Galapagos travel for both the islands and its visitors.
In other words, change is good.
Is Your Yacht Making the Change in 2011?
These Galapagos yachts have decided to start offering the 15-day itinerary starting sometime this upcoming season. I know this is vague, but each yacht has their own agenda and initiation schedule that
vague
is the only option. Certainly give us a call
1-800-344-6118
if you have any questions on your yacht, your trip, or
Galapagos cruises
in general.
Aida Maria
Eden
Angelito
Cachalote
Guantanamera
San Jose
Millennium
Athala
Beluga
Seaman II
Queen of Galapagos