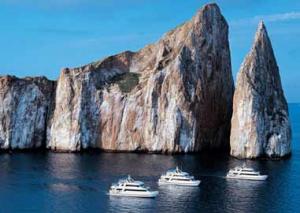 In the June/July 2009 issue, National Geographic Adventure highlights the Galapagos yacht,
M/Y Eric
, in their "World Class: Lodges + Escapes" feature. What makes the Eric so interesting? Complete with solar panels and wind turbines, the yacht is the first hybrid ship of its kind -- but let's hope it's not the last. Take a look at the write-up below.
By Costas Christ
Intelligent Design: A Guilt-Free Solution For Galápagoers
To go or not to go to the Galápagos? It's a question that nags at every wildlife enthusiast. In 2007 UNESCO declared the archipelago a World Heritage site in danger, thanks in no small part to overcrowded cruise ships. Which is why Ecoventura president Santiago Dunn wants to scale things back. His expedition ships carry up to 20 guests each and were among the region's first vessels to be "Smart Voyager" certified by the Rainforest Alliance. Now comes the first Galápagos-bound hybrid ship, Ecoventura's M/Y ERIC, which has 40 solar panels and two wind turbines. "We want to give people the incredible experience of visiting the islands without the fear that they are harming the wildlife and fragile ecology," says Dunn. In other words, go now—just go green.