Shark-fining Exports
Shark fins are considered a delicacy in many parts of the world – but this indulgence is not without its price. Shark finning is a graphic process where the fins are cut off the large fish. The shark is then thrown overboard where it slowly bleeds to death. The Galapagos's species-rich waters are an easy target for fisheries. Half of the 29 species of sharks that call these waters home are considered threatened. It is estimated that 80% of Ecuador's shark fins come from the Islands. Needless to say, this is a problem whose probable results are frightening.

In February, the International Galapagos Tour Operators Association (IGTOA) reported that the former President of Ecuador approved a ban on shark finning in Ecuadorian waters. Unfortunately, this ban is only temporary, and no further efforts have been made – by the former, or the new Ecuador president – to make this ban permanent. In fact, the government took a step backwards, announcing it would allow export fins from sharks that were "accidentally" caught in the process of fishing for other species. Thankfully, this regulation was aggressively protested. As a result, the "incidental catch" policy is currently pending.

Conservation organizations, WildAid and Conservation International, state that Galapagos diving generates nearly $10 million into the Ecuador economy, compared with a little over $1 million from shark fins. Such statistics make the political support of shark finning equally confusing and frustrating.

WANT TO HELP? ME TOO.
Now for the good news – you can do something. As frustrating as the news about the shark finning may be, there are steps we can do to be part of the solution. Make that political push and contact the people who can make a difference, who have their finger in the pie, their foot in the door, pull the strings … choose your metaphor, but choose to do something. There are a number of non-profit organizations you can support such as WildAid, the Charles Darwin Foundation, IGTOA or other associations that are dedicated to protecting the Galapagos. Send a fax, email or make the call. Let them know your concerns, your questions and your demands. Even a letter to the editor of your local newspaper can help give the Galapagos a voice and spread the word about conservation. Tell them why you want the ban on shark finning exports to become a permanent policy. A few poignant words can go a long way.
Want to Go?
region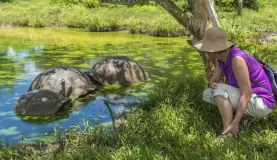 continent