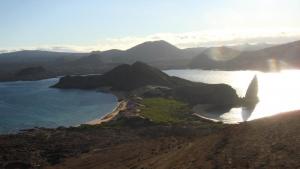 UPDATE (March 12, 2011): The tsunami hit the Galapagos about an hour later than originally expected. Seas are choppier around the entire archipelago, but nothing too severe or extremely unusual. Waves at Academy Bay, in Puerto Ayora (Santa Cruz Island), were taller than normal as well, but there are no records of any damages caused to boats, coasts or ports in the Galapagos. The animals from the Charles Darwin Research Station (including Lonesome George) that had been transported to the highlands as a precaution will be transported back down during the course of the day. Flight are running, but are busy and there are delays as expected.
We woke with news this morning of an earthquake that struck Japan measuring 8.9 on the Richter scale. Our thoughts are with all of those affected by this natural disaster. As a result of this earthquake, tsunami alerts have been issued for islands and coastal regions hugging the Pacific Ocean. The tsunami is expected to arrive in Galapagos later this afternoon (March 11, 2011), around 4:30 pm local Galapagos time (5:30pm mainland Ecuador). Ecuador President Rafael Correa has ordered evacuation of the Galapagos Islands. Thankfully, effects of the tsunami are not expected to be severe in the Galapagos or in Latin America in general. Nonetheless, all necessary precautions are already in affect and with the advanced notice, time to seek safe ground is sufficient. Along with the evacuation order, flights to Galapagos today have been canceled. All tour yachts are required to leave port and be at least five miles offshore to safe waters. Travelers are staying on board. The local populations are seeking higher ground to the highlands and mid sections of the Islands by noon today. Obviously, all visits today have been canceled. Weather experts in Ecuador expect a similar situation to the one witnessed in Hawaii earlier today in the Galapagos. The higher than usual waves, which arrived about every 15 minutes to the Hawaiian coast caused minimal damage on the shores and ports of the islands. A very similar scenario is expected in the Galapagos today. Among those evacuating to higher ground is the islands' famous inhabitant, Lonesome George, as reported by the
Galapagos Conservancy
. All international flights into Quito and Guayaquil are operating normally and no delays or cancellations are expected. We are optimistic that flights to and from the Galapagos will be resuming tomorrow. Congestion is inevitable - airports in Galapagos will see an increase in flights to normalize the situation of those passengers stranded in mainland Ecuador today. Tsunami alerts and alarms in Latin America have also been issued for Guatemala, El Salvador, Costa Rica, Nicaragua, Panama, Honduras, Ecuador, Colombia, Peru, Chile. In general, coast regions in these countries are advising coastal populations to be on alert and in some cases seek higher ground. We are in constant contact with our partners in Galapagos and throughout Latin America and will keep you updated on developments.