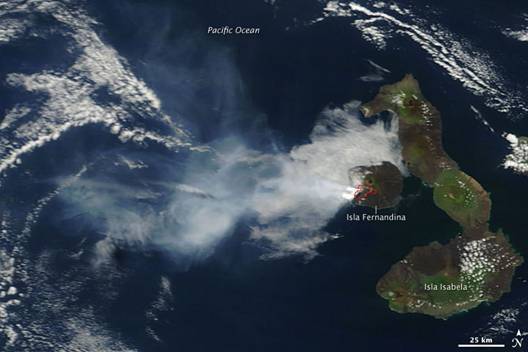 Metropolitan Touring recently sent us the following update about the volcanic eruption in Galapagos. For more incredible images of the volcanoe, check these links:
http://earthobservatory.nasa.gov/IOTD/view.php?id=4514
http://earthobservatory.nasa.gov/IOTD/view.php?id=2690
http://earthobservatory.nasa.gov/NaturalHazards/view.php?id=14945
Personnel of the Galápagos National Park who over flew the volcano at Fernandina Island, inform that the activity continues, but with less intensity.
They have observed lava flowing from three fissures, which forms a lava river of about 10 meters (30 feet) at its widest, that is flowing towards the ocean.
The number of species affected by the eruption has not been quantified yet. The roaring eruption of "La Cumbre" will undoubtedly claim the lives of many species. But that's the way it is in the Galápagos, Nature's laboratory of evolution. The volcano will also create new land, new habitats and new opportunities for life hardy enough to make its home there. Natural selection plays an important role in the evolution of the species.
Fernandina is one of the youngest islands of the archipelago, it is also the second largest most pristine island in the world, as its ecosystems are very well preserved, without introduced species.
This eruption has not affected the itinerary of visits of Metropolitan's vessels: MV SANTA CRUZ and Yachts LA PINTA and ISABELA II; guests have been able to have a close look at the mighty forces of nature – an incomparable experience!