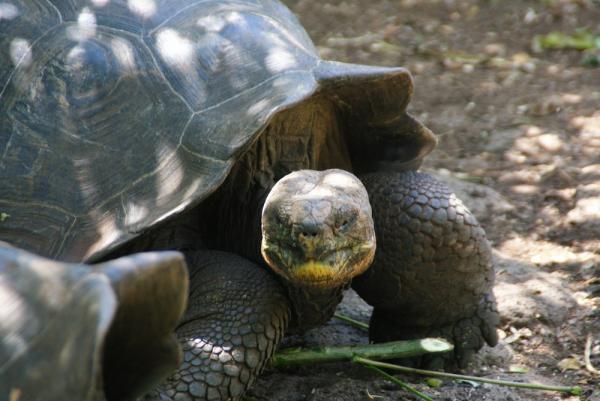 Andreas, our naturalist on Santa Cruz, had given us an overview of the geology and biology of the islands, as well as a review of Charles Darwin's research there. Often referred to locally as "Charlie," he is very important to the people who live there. There is a statue of him across from Frigate Hill, a whole series of finches named after him, and a Darwin Research Center that raises young land tortoises for re-introduction. We had a driver named Darwin, and met the two cats at the Windmill Restaurant - named Charles and Darwin. The evidence of Darwin's theory of adaptation increasing survival rate is everywhere on this isolated natural laboratory. The finches are the most famous because Darwin used them as examples of successful adaptation: their different beak designs reflect the different kinds of food they use. However, the same principle can be seen at work in many other species, from hummingbirds to tortoises. The giant tortoises have been divided into different groups based on the neck opening of their shells. Tortoises that feed on ground plants have a lower opening; those that feed on taller plants have a very high opening.
Of all the tortoises we saw, and there were many, including a pair that was mating (very slowly), I most enjoyed seeing the wild ones. Many farmers who used to see the tortoises as pests now allow them access to their land and make money from tourists who pay to wander their land in search of the animals.
This same tolerance was clear at the fish market we visited. As the fishermen cleaned their catch, a dozen brown pelicans worked their way closer and closer until they were shooed away, and a sea lion stood next to the man cleaning the fish, with his head on the counter, just like a dog.