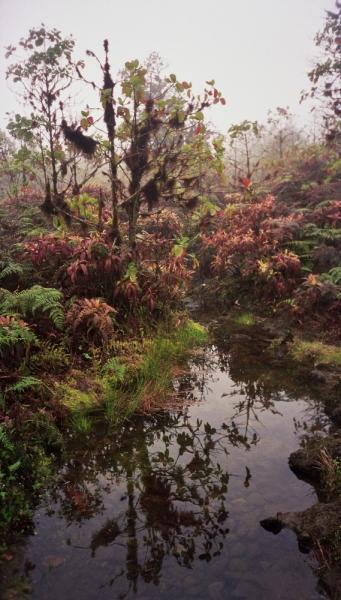 Since we'd missed the Darwin Center yesterday we headed there first thing this morning. Our Galapagos National Park Guide showed us Lonesome George, Diego, Popeye and all their friends. He taught us about the differnces in their shells. We saw the baby tortoises in their sheltered pens.
From there we loaded into little pick up truck taxis for the drive to El Chato Tortoise Reserve to see them in the wild. In a field near where we parked we could see a mare and her foal right next to a giant tortoise. Being a long term horse person I found this to be really neat. We strolled around the reserve searching for the wild tortoises and various birds, we were not dissapointed. We found many tortoises, some wallowing in a big mud puddle. Since it was the dry season and we were now in the highlands we were surrounded by the Garua (fog).
After our walk we returned to the parking area, were fed a snack and were able to examine toroise shells and bones. A few of our group were even able to 'try on' a tortoise shell. (I didn't, I was afraid of getting stuck in there!)
Back into the taxi's and onward to the lava tube. We climbed down some very slippery from the Garua, steps and walked and crawled through the ancient lava tube. There were electric lights strung along the walls. Having been in the ATM cave in Belize this was a bit anticlimatic.
Onward to Media Luna, but first a delicious lunch of sandwiches, Oreos and Pringles. Now we were off on our 3 km hike (mud wallow?). The landscape was eerie, I was not sure if I was still on planet Earth. The plant life was so strange and colorful. As a group we decided on no rest stops, although I think we soon regreted that. Hiking through the mud was tough. We climb a steep hill and finally stopped to rest. The scenery was, well, fog. Apparently in the wet season the view is really quite amazing. Somehow we all made it back to the bottom in one piece and back to the taxis for our last drive to the start of our mountain bike ride back to town.
We quickly spread out, all travelling at our own pace, with the taxi's following behind for support if we got tired. One small mishap, as we came into the highland town, I noted a sign which, with my high school Spanish, I was able to translate as 'slow your speed'. Well 12 year old Jake didn't, he sped down the hill and around the corner and.... wipe out! Fabricio was quickly by his side with his first aid kit, while I, the Paramedic watched (I was on vacation!). He did a great job of cleaning and bandaging the 'road rash', luckily no serious injuries.
That night when I returned to my hotel I think I was the dirtiest I had ever been in my life (It was great!). After a long hot shower I was ready for bed, but instead took another walk around town, shopping for souvineers.