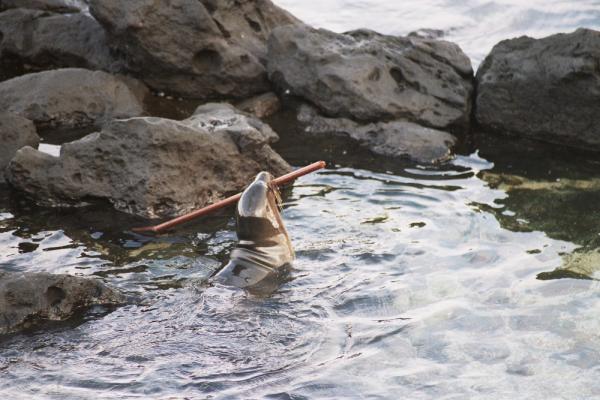 Again another great night to sleep and awakened by the sea lions and roosters. This morning we will be moving to Isabella. First we had breakfast and did a tour of the interpretation center. I had a chance to go say goodbye to my early morning stroll buddies the sea lions and finish my souvineer shopping. Then we took taxi's to the san Critobal airport. I was sad to leave, I'd realy enjoyed my time in Puerto Bazquiero Moreno and at the Hotel Teclas, but I was excited to see what was yet to come.
We were the only group at the airport, it was closed for large planes, only open for the small planes. Our group was to travel in 2 planes to Isabella. I was with the first group in an 8 seater plane. I sat next to the pilot. What a cool experience! The take off and landing were the smoothest, I'd ever experienced.
From there we were taken to our new homes. I stayed at the Casa De Marita. Others from our group stayed 2 minute walk away at the Wooden House. We had another delicious lunch at Casa De Marita and then went by boat to Sendero de Tintoreras to see the White Tipped Reef sharks. On the way we saw spotted eagle rays and sea turtles.
Sendero de Tintoreras is an area of volcanic rock with lichen growing on it. There are hundreds of Marine Iguanas and Sally Lightfoot crabs here. In the channels between the lava are resting sharks. The iguanas look like left over dinosaurs. They climb over and lay on top of each other.
We also visted a sea lion colony. Mother and babies were sleeping under the Mangroves. The male and a few females were playing in the surf. Here we were able to sit down right beside the sea lions and they didn't mind.