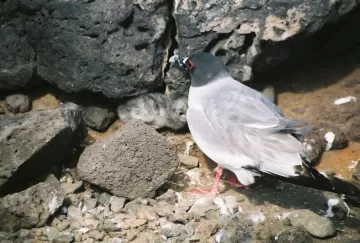 We also got the chance to walk around the city and visit the Darwin Research Center and that night I got the chance to party with the girls from the other boat. The next day we were back at sea for the second part of our trip.
One stop that was most enjoyable was the stop on Post Box Cove. In 1763 an English whaler set up an old wine casket to serve as a post box and it has been in use ever since. How it works is that a sailor would write his letters then put it in the box and when another ship would pass by if that ship was going to where the letter was addressed, the sailors from that ship would take that letter and deliver it to the address. Today the tradition lives on and I will be spending a weekend hand delivering the letters that were addressed to places the D.C. area.
What also made this a great stop was that I got the chance to play a game of soccer with all the other boat crews. While the passengers were chilling out on the beach, the crews from the tour boats would team up for a game of soccer and since they were 1 person short they asked if I would be a goal keeper. Not knowing my past and that I played goal keeper in High School and College, they soon found out that I was not a pushover. Two hours later (in 100 degree heat and sporting the goalkeeper raspberry scar on my right calf) the game was over and I was now being called the goal keeper. It made me smile two nights later when we stopped at Punta Aryo and I was taking the water taxi back to my boat and the taxi driver smiled and said to me, "You are the goal keeper." Word got around that this big American played with the locals. By the way we won 7 to 6.