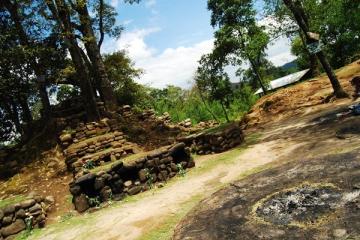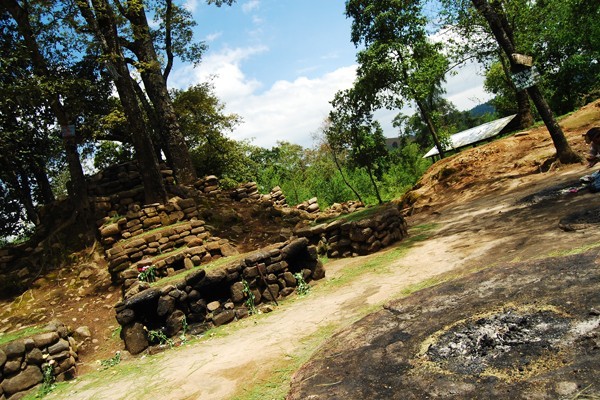 Today it is so hot, that the residents of Flores are complaining! It is in the high 90s and it is impossible to even be outside! We try - we really do!
Gerry and I got up to have breakfast and see Juanita and Marshall off to the airport. Our flight is this afternoon so we have the morning to kill. Our original plan was to visit the zoologico on the other side of the lake, but Gerry is losing steam fast. We took a walk while it was still relatively cool, keeping to the shade, and then went to the internet café to see what is up with the kids. No news from Oscar still so Gerry woke him up with a phone call.
We need to get back in the ac, so I write in the journal and edit pictures for Facebook while Gerry snoozes.
We need to get back in the ac, so I write in the journal and edit pictures for Facebook while Gerry snoozes.
I get a little itchy to do something, and mistaking the time on my computer I wake Gerry up and we shower and dress for the day. Once out on the street I realize it is only 10 and not 11! We've checked out of the hotel. My idea was a bit of last minute shopping and a leisurely lunch before our shuttle to the airport, but rather than 1 hour to kill we have 2.
In retrospect, I should have pushed for the zoologico! We try, we really try, to do some shopping. We stay in the shade and stand, seemingly to examine merchandise in front of store fans, but it is just too hot to live. We find a hotel (the one where the Peten Rotary meets) and sit down in the lobby restaurant for a long, and early lunch.
Two of my favorite limonadas con soda later and a light lunch, we're back out on the street. We buy the few things we need and then decide to go sit in the hotel lobby and wait for the shuttle.
Just to prove there is a god who loves us, the young women at the hotel desk tells us that our room has not been cleaned yet and we can go back upstairs to the air conditioning for at 45 minutes! Halleluja! You can't imagine what good news that was!
We napped - I tell you the heat had us so energy-less we could have napped on the floor of the lobby! And then, we relinquished the air conditioning, and went back down to the lobby.
We thought we had died and gone to heaven when the shuttle came for us a half hour early and we boarded it (thankfully air conditioned) salivating over the prospect of waiting for the flight in the comfort of an air conditioned airport terminal.
It wasn't to be. The airport in Flores is not air conditioned, and we joined the airport employees sweating on a bench in front of a fan that blew air over us, albeit hot air.
Finally we board our flight (the plane is air conditioned –woohoo!) and fly back to cool Guatemala City – where everyone there is complaining about the heat too! Yes, it was hot there too – for there – but it was still a relief from the heat of the lowlands! We cleaned up again and Sara's drivers came t pick us up to take us to her house for dinner.
Now it is cool, and I put on my long sleeves! Sara's house is beautiful. It is simply laid out, and she has it beautifully decorated with local crafts, art and textiles. The house they rented in Puerto Rico was furnished, and they had decided not to bring their furniture from their house in Lake Forest to Guatemala, so Sara had bought all new furniture for this house and had it moved by Walmart (Bill's employer). The house was not crammed with furniture as a result – adding to the feeling of airiness and simplicity I found so inviting.
She gave us a tour of her garden. It is so great to be an eccentric in a foreign country! You can get away with it just because you are a foreigner! Sara is growing coffee, corn, pineapples squash and more in her Guatemala City yard. Everyone in the household, maids, drivers and the gardener himself, are involved in this project and it bears "fruit".
We have a lovely delicious dinner of garbanzos and chicken, with a fresh salad I don't think twice about eating. Then, the drivers are waiting to go home, and we don't want to keep them to late. We say goodbye to Sara, and basically to Guatemala, for this trip.