Have questions? We're here.

Get inspired by the possibilities.
Build your ideal trip.
Mediterranean: Barcelona - Nice
Example 8 Day Cruise aboard Sea Cloud
This 8-day luxury Mediterranean cruise on board the Sea Cloud starts with some of the artistic treasures in the Picasso Museum or the Joan Miró Foundation. Discover Barcelona, the capital of Catalan Art Nouveau with its glory epitomized in the spectacular Palau de la Música. Then cruise to Collioure, Sete, Antibes, and Nice, France.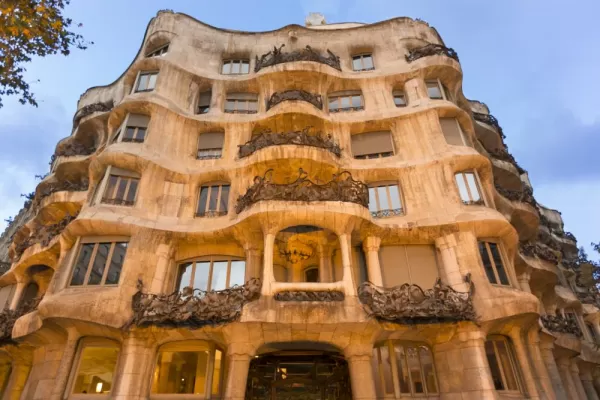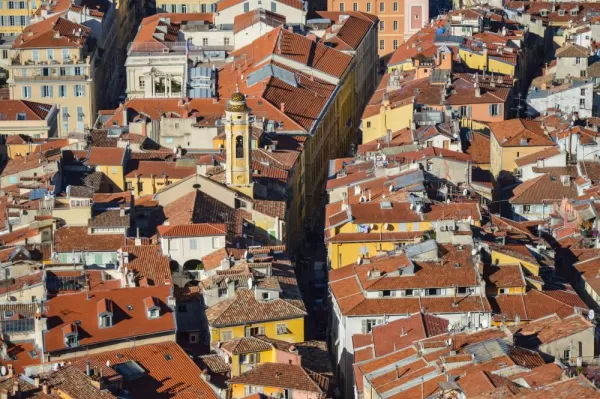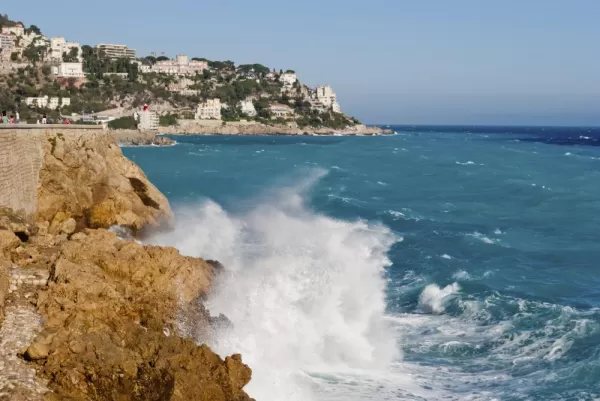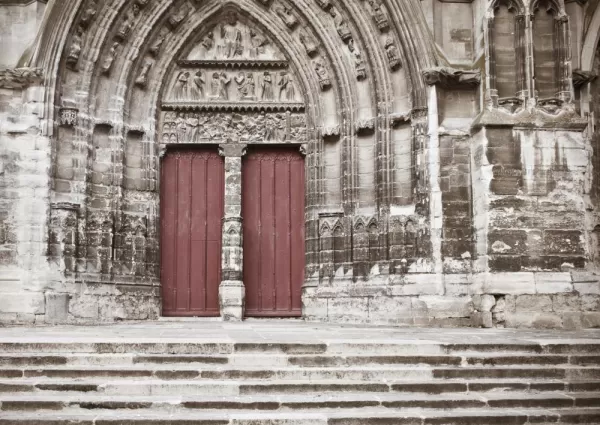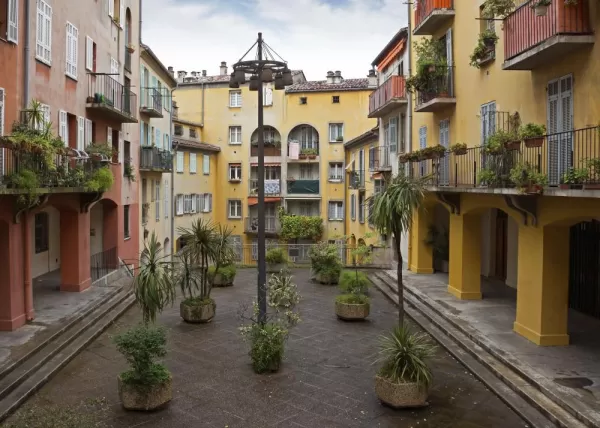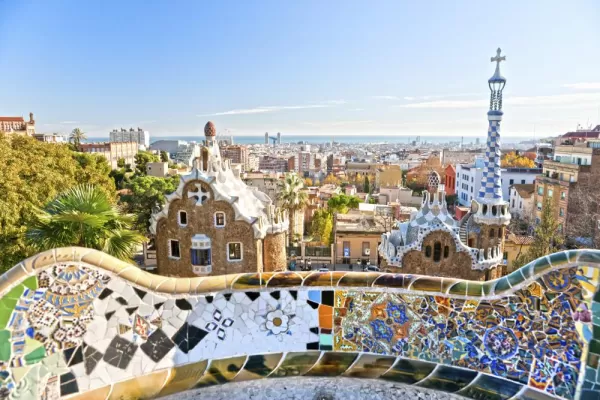 Observe and enjoy Barcelona, an enchanting city that revels in contrasts
Visit the Picasso Museum, the Joan Miró Foundation, Palau de la Música
Discover the peaceful city of Collioure, France
Explore the Castle Hill that offers many amazing panoramas in Nice
Full Itinerary
Expand All
Day 1: Barcelona, Spain | Embark
Barcelona revels in contrasts. Many enthuse over the beautiful elegant squares and boulevards, while others look for medieval romance in the Gothic quarter. Some love the artistic treasures in the Picasso Museum or the Joan Miró Foundation, but for most people, Barcelona is the capital of Catalan Art Nouveau and its glory is epitomized in the spectacular Palau de la Música. At every turn, you encounter the playfully opulent creations of architect Antonio Gaudi. His exuberant fantasies are evident in the numerous houses, idiosyncratic parks and the famous uncompleted Sagrada Familia cathedral which he created.
Day 2: Collioure, France
1 Breakfast, 1 Lunch, 1 Dinner
This small town lies on the French Mediterranean coast, just north of the border with Spain. Explore the historic treasures of this commune: the local art museum houses works by Henri Matisse, and the Church of Notre-Dame-des-Anges, was built around a lighthouse dating to the 17th-century. Or simply enjoy the stunning views from this quaint seaside town.
Day 3: Sète, France
1 Breakfast, 1 Lunch, 1 Dinner
This port city in the French region of Occitanie offers white sandy beaches, sparkling Mediterranean views, and biodiverse lagoons. Take the time to explore this charming and historic city.
Day 4: La Ciotat, France
1 Breakfast, 1 Lunch, 1 Dinner
La Ciotat is a town on France's Mediterranean coast. At its southern tip, the Parc du Mugel botanical garden encompasses tropical plants, pebble beaches and play areas. The grand Musée Ciotaden, amid the cafes and bars of the regenerated Old Port area, features exhibitions on the town's shipbuilding history and the invention of the game of pétanque. Just north is the Eden Theater, the world's oldest operating cinema
Day 5: At Sea
1 Breakfast, 1 Lunch, 1 Dinner
Enjoy this day offshore, relaxing and taking in the smell of the fresh ocean breeze up on deck.
Day 6: Portofino, Italy
1 Breakfast, 1 Lunch, 1 Dinner
Portofino has a prominent position on a peninsula on the Italian Riviera and, since the 1950s, has developed into an elegant marina. The "dolce vita" seems to have been born here. You can unwind in classy bars and cafés in front of beautifully restored facades, browse for treasures in the backstreets, and observe the comings and goings on the port's promenade. At first glance, Portofino is a picturesque fishing village. However, you soon notice that it is also a sophisticated retreat for exclusive megayachts, as well as a great hideaway for anyone who knows how to enjoy the charming and stylish traditional atmosphere.
Day 7: Menton France
1 Breakfast, 1 Lunch, 1 Dinner
Menton is a town on the French Riviera in southeast France. It's known for beaches and gardens such as the Serre de la Madone garden, showcasing rare plants. East, the hilly, medieval old town is home to Basilique Saint-Michel, with its 18th-century bell tower, and the ornate facade of La Chapelle des Pénitents-Blancs. Nearby, the Musée Jean Cocteau collection Séverin Wunderman displays works by poet Jean Cocteau.
Day 8: Nice, France | Disembark
Nice lies in one of the world's most lavishly endowed natural landscapes. The sea glows azure and the mountains in the background rise picturesquely up into the sky. Castle Hill gives you a fantastic view over the rambling old town - a labyrinth of alleyways with Baroque churches, pastel-colored houses, and red-tiled roofs. The Promenade des Anglais, a sophisticated, five-kilometer- (3 miles)long walkway along the magnificent Baie des Anges and its long beach, lies at the heart of the elegant new town, with its splendid palaces and aristocratic hotels in the Belle-Époque and Art Deco styles.
Dates & Prices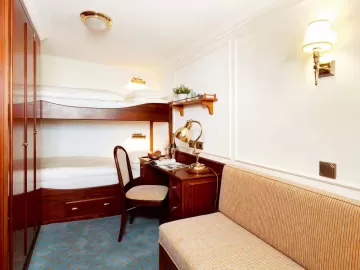 These approx. 9.5 m2/102 sq ft cabins with their upper and lower single beds (each 80 cm x 200 cm) once accommodated the ship's officers, and their original features exude a romantic charm. These cabins can be ventilated with fresh air both day and night as the cabin door leads directly to the Promenade Deck beneath the bridge.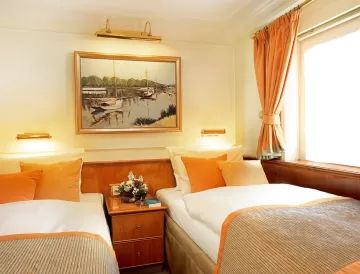 These cabins are each approx. 10.5 m2/113 sq ft and located on the Promenade Deck. They are furnished similarly to Cat. 3 cabins.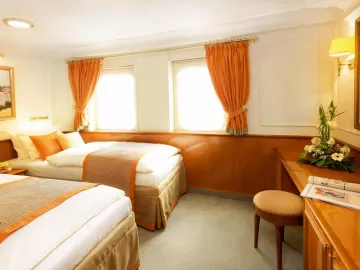 Located on the Promenade Deck, each of these outside cabins also features panorama windows, a marble bathroom with a fitted shower and a substantially sized wardrobe. They are approx. 12.5 m2/135 sq ft in size with two single beds (each 80 cm x 200 cm).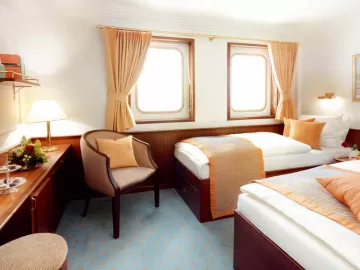 Each of these cabins features a marble bathroom with a fitted shower, two single beds (each 80 cm x 200 cm) which can be placed together, a substantially sized wardrobe and additional built-in storage space. Their location on the Captain's and Lido Deck and their design, featuring two panorama windows, mean these approx. 13.5 m2/145 sq ft cabins feel extremely bright.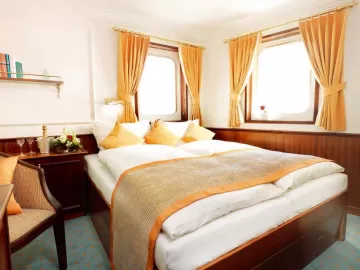 These two double-bed cabins are located on the Captain's and Lido Deck and feature unique corner panorama windows. Approx. 13 m2/140 sq ft in size, they offer a substantial wardrobe, a double bed with two mattresses (each 80 cm x 200 cm) and a spacious, elegant bathroom with a fitted shower.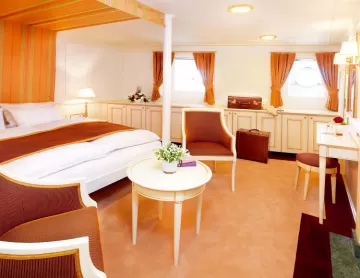 Warm and bright tones dominate these approx. 18-20 m2/198-215 sq ft deluxe outside cabins fitted with a double bed (160 cm x 200 cm) The cabins feature a modern elegance, generous storage space and a walk-in closet and a marble bathroom.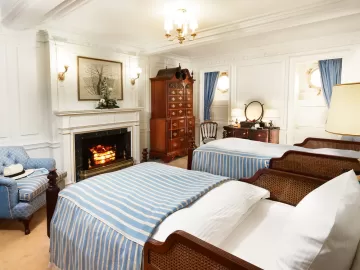 Main Deck. Portholes, two single beds or king bed with two separate mattresses, one or two chairs, nightstand, decorative marble fireplace, walk-in closet, safe, A/C, private bath with shower or tub.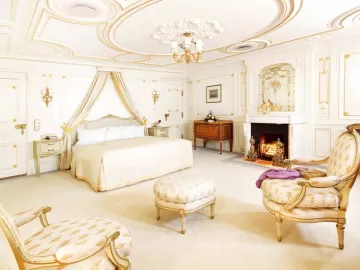 Main Deck. Portholes, large double bed, two armchairs, antique nightstands, table or antique secretary, decorative marble fireplace, desk, walk-in closet, safe, A/C, private bath with tub and portholes.
Notes
Please note: Shore excursions are NOT included in this cruise-only rate. Contact us for details.
Rates Include:
Beautifully appointed cabin in selected category
Welcoming bottle of champagne in your cabin
All meals (six per day) from early-bird breakfast to the exquisite 4-course dinner menu with choice of main course
5-course gala dinner during the cruise
Welcome and farewell cocktail with champagne
Selected wines and beers thoughtfully chosen to complement lunch and dinner
All soft drinks and juices throughout the cruise
All alcohol-free coffee and tea specialties
Bottled water on the excursions
Fresh fruit basket in your cabin, replenished daily
E-mails can be sent free of charge from the on-board laptop
English-speaking tour guide
Travel documents with detailed destination information
All port fees
Use of snorkeling and waterskiing equipment is free of charge
Rates Exclude:
Tips
Excess luggage (allowance is up to 40 kg per passenger)
Additional meals and beverages (so far as not expressly included)
Other personal expenses
Transfers
7 Breakfasts, 6 Lunches, 7 Dinners
5 Nights Accommodations
Accommodations as listed
Ground transportation as listed
Excursions and activities as listed
Meals as listed
The Guidance and Company of the Expedition Staff
Hotels Ashore as Indicated in the Itinerary
Sightseeing & Entrance Fees
Special Access Permits, Park Fees, Port Taxes
Zodiac & Kayak Explorations
Snorkeling, Including Wetsuits, Masks, Fins & Snorkel Where Relevant
Presentations and Guest Speakers in the Lounge
Gratuities to the Ship Crew
Complimentary Parka
Alcohol (except premium brands)
Non-Alcoholic Beverages
Travel Insurance
Personal Expenses
Flight costs (please request a quote)
Additional excursions during free time
Fuel and transportation surcharges (when applicable)
Scuba Diving
Passport and Applicable Visa Expenses
Additional Hotel Nights
Private Transfers

Expedition Extensions
Laundry
Internet & Phone Charges
Rubber Boots: Please bring your own.
Inquire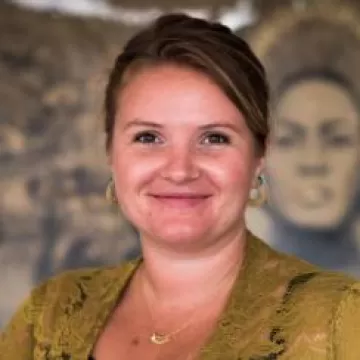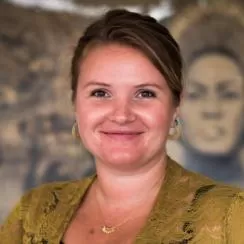 We Love to Talk Travel
Call
1.800.344.6118
or
Chat Now
Everything was amazing! The planning with Adventure Life went smoothly. The actual trip was fantastic! One of the best trips I have experienced. The cruise staff members were knowledgeable and attentive. I will be writing more about this on the blog!
Justin Chappelle
Mediterranean Travel Guide
Favorite Mediterranean All Trips