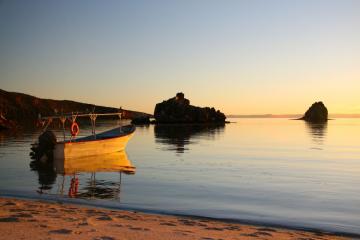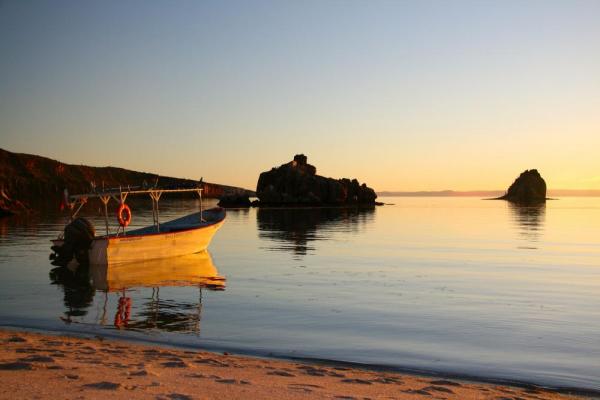 We spent three nights camping at Bahia Candelero on Espiritu Santo Island, just off the shore of La Paz in the Sea of Cortez. Our three days were filled with kayaking, snorkeling, fishing, hiking and generally relaxing on beautiful white-sand beaches. As we departed La Paz to boat across the bay to the island, we again found that our trip was completely private! Just the four of us, our guide Hugo, Antonio the camp chef (and it would turn out - the fishing guide) and Jorge, possibly the most ruggedly handsome Mexican I have ever met, were going to spend three nights on possibly the most beautiful little cove I've ever seen. The water was clear as could be, and the color was spectacular. It almost seemed unreal.
Our first afternoon, we jumped in the kayaks and immediately saw a sea turtle swimming below us in our little private-cove. There were rays, guitarfish, schools of jacks, needle fish, and dozens of other fish and critters that remain unknown to me. We kayaked around the point to another small, beautiful bay and pulled our kayaks up onto shore. We put on our snorkel gear and spent nearly an hour exploring the water along a rock wall before kayaking back to camp. Antonio and Jorge, had been preparing happy hour and dinner for us. We had snacks and cocktails as we watched the sun set before eating a delicious dinner. We quickly became friends with Hugo, and found that we spent each of our nights in camp staying up late, talking family, life, politics, spirituality, music, books, pretty much anything and everything. Hugo not only fit right in with our family but also seemed to accept us as family.
At some point at dinner, Evan asked about going fishing, and Antonio lit up. So the next morning, we gathered our stuff, and set off in our boat to go fish out at the "sea mount", a shallow(ish) spot quite a ways out into the Sea of Cortez. This was clearly the spot, as there were at least 15-20 other boats all in the same area fishing for yellowtail. After a couple hours of throwing ballyhoo into the deep sea with no luck, we decided it was time to go snorkeling. So we boated back to the far north end of Espiritu Santo to Los Islotes We put on our wetsuits, jumped into the water and were quickly greeted by several young sea lions. They played with us, swam at our faces, then zoomed off, only to turn around and swim right back at us again. The water was a little choppy, which made me nervous, but Hugo always had an eye on us and checked on us to make sure we weren't overwhelmed. The occasionally large male would slowly swim below us, as if on patrol, but seemed unaffected by our presence. We played until we were exhausted and reluctantly returned to our boat. After drying off and warming up, we boated back to camp, where we had another amazing happy hour and hot dinner.
The next morning, Evan and I woke up early to enjoy the serenity of this quiet place. Antonio and Jorge saw that we were up and asked if we wanted to give fishing another try with them. This time, we were going to fish in a much more traditional way. We first went to another nearby cove and gathered a large net, which was filled with all sorts of critters. We threw most of it back, but kept all the snapper. I quietly hoped that we would get to taste the snapper later that day. Then we went out along the west end of Isla Ballena and started fishing for trigger fish. This time, rather than using the modes fishing pole, we put a chunk of bate on a hook and through in a line. We pulled in fish after fish this way! I had never hand-lined before but certainly had seen a lot of locals all over Latin America succeeding with this simple way of fishing. After we collected nearly two dozen trigger fish, we headed back to camp.
We packed a snack and loaded up in our kayaks to set off to the north. We kayaked for nearly an hour, crossing a pretty large, somewhat open area with bigger waves and a little bit of a crosswind. We are not experienced kayakers, but I will admit I was a little nervous. I know from my previous kayaking experience that paddling was the best way to keep yourself stabilized so I just kept paddling, heading across the "cut" towards the northern part of Espiritu Santo. Once we got to the more protected water again, we relaxed and started exploring along the rock walls and eventually made our way into this quiet little protected bay. We had a quick snack and a cold beer before going for a short hike into the desert. We quickly heated up being away from the water, and didn't take too long before deciding to turn back to get back in the water. We explored a little more before heading back across to our camp. I definitely felt like we'd gotten our exercise today! Antonio and Jorge, in the meantime, had been out fishing for snapper, and had prepared us an amazing fried red snapper for lunch.
After a quick siesta on the beach, we went for a hike behind our camp. The view was amazing, and we got back into the canyon a little and learned more about the history of the island. There was a well part-way down the trail that had amazingly cold freshwater in it. Hugo was nice enough to dump a bucket of the cold water on each of us, giving us a much-needed freshwater shower! When we got back to camp, an old, traditional fisherman pulled up on shore in his panga and showed us his catch from the day. He had a large net in the front of his boat, full of all different types of fish. He also had caught one of the largest stingrays I've ever seen. It took up nearly the whole front of his panga. Then he showed us the stinger, which he had cut out of the tail. It was about eight inches long, and looked like a double-serrated knife. Needless to say, seeing that was enough to scare me! I will definitely be VERY careful when walking or swimming in stingray-rich water!
Once again Antonio and Jorge surprised us that evening. Just when we didn't think things could get any better, they called us for a sunset-tour happy hour. A pitcher of fresh pina colada, a pitcher of margaritas (mixed together quickly became named a "juliarita) and fresh ceviche with chips while we slowly motored around the Isla Ballena while watching the sunset. This island did not disappoint. I will definitely come back. I just hope that we can get Hugo, Antonio and Jorge to join us again!