Have questions? We're here.

Get inspired by the possibilities.
Build your ideal trip.
Boston, MA to Nassau, Bahamas
Example 16 Day Cruise aboard Ocean Navigator
Sail on this 16-day itinerary cruising the seaboard from bustling Boston to beachy Nassau aboard Ocean Navigator. With stops in Baltimore, Charleston, West Palm Beach, and more, this journey has been handcrafted to sample the Eastern cities of the United States as you head to your final destination in The Bahamas.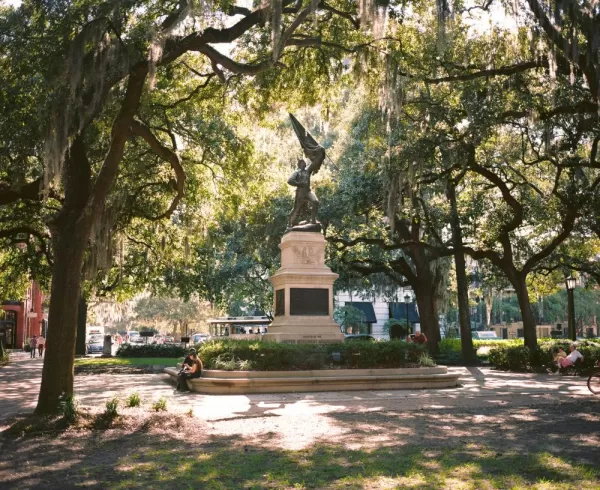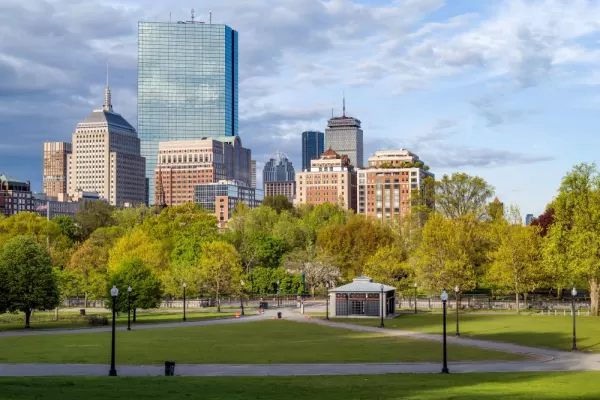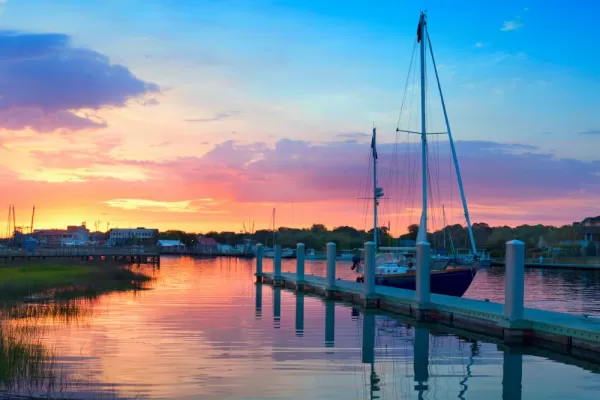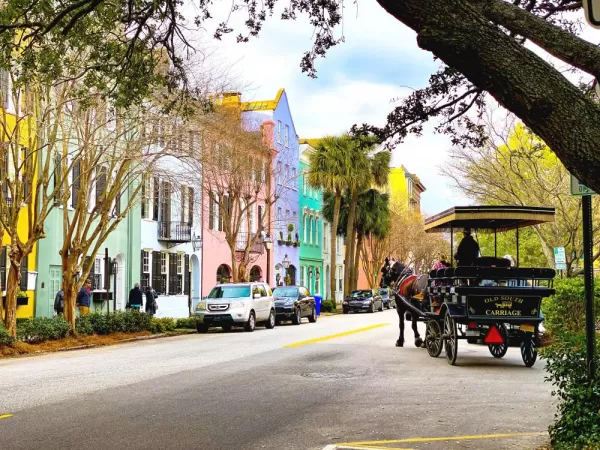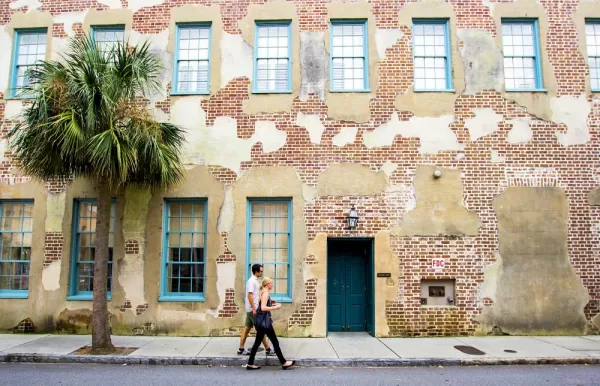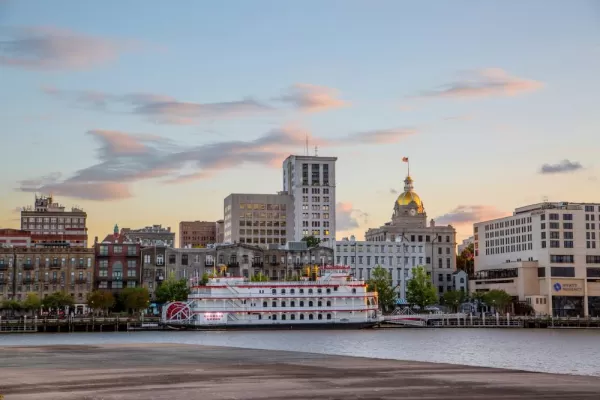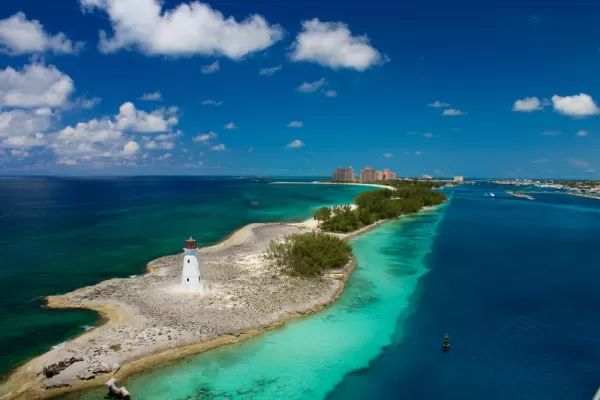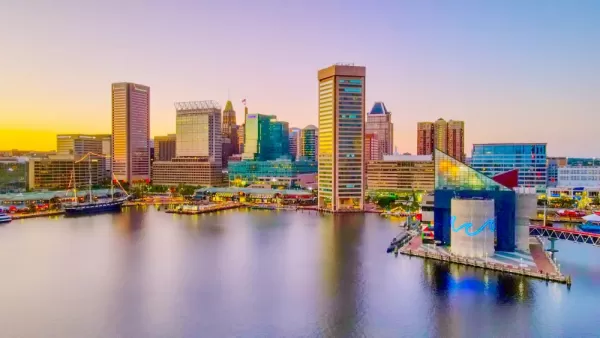 Learn the history of Boston and its role in the formation of America
Wander the historic streets of Baltimore, Maryland
Experience charming Southern hospitality in Savannah, Georgia
Explore historic architecture in Charleston, South Carolina
Amelia Island
Bahamas
Baltimore
Georgia
Maryland
Massachusetts
Montauk
Nassau
New York
Full Itinerary
Expand All
Day 1: Hotel Stay in Boston, Massachusetts
Enjoy a complimentary stay at the pre-cruise hotel. The evening allows time to become acquainted with the city. For your convenience, our Hospitality Desk will be located in the hotel, and our friendly staff can assist with everything from general questions about the upcoming voyage to reservation of premium experiences. Representatives will be available to provide suggestions for dining, entertainment and sightseeing options to maximize your time here.
Day 2: Boston, MA | Embark
1 Breakfast, 1 Lunch, 1 Dinner
Boston is ubiquitous. As the Cradle of Modern America, it birthed a revolution. Laced in legacy and a world of cultures, the city has stories to tell. Follow the red-brick road along the Freedom Trail, and admire the zenith of colonial history and modern innovation. Cobblestone walkways, civic landmarks and classic architecture sit pretty to reveal authentic Americana from the perspective of one of the oldest cities in the United States. From bookstore and boutique to street performer, Boston is groundbreaking. 

Included Shore Excursions:
Boston Included Tour
Boston is the capital of Massachusetts and is one of the oldest cities in the United States. As the site of many important events leading to the American Revolution, Boston's historical roots stem from every street corner. Today, the city is one of New England's preeminent destinations, featuring many popular attractions from thought-provoking museums to antique colonial structures.
Day 3: Provincetown, MA
1 Breakfast, 1 Lunch, 1 Dinner
At the northern tip of Cape Cod, the first pilgrims from the Old World stepped off the Mayflower in 1620. Pilgrim Monument stretches high above the landscape overlooking the cerulean sprawl of the bay. The dense array of shops and restaurants on Commercial Street host a constant stream of visitors looking for the best of Cape Cod's seafood and souvenirs. From multicolored murals to sunny decks on which to sit a spell, this spot feels like a slice of paradise. 
Day 4: Newport, RI
1 Breakfast, 1 Lunch, 1 Dinner
This city on Aquidneck Island is lovingly referred to as the Sailing Capital of the World, having hosted the famed America's Cup yacht race for more than 50 years. Gilded Age mansions dot the landscape. Sprawling estates such as The Breakers, Rosecliff, Marble House and The Elms were considered "cottages" by the wealthy industrialist families whose legacies they carry. Delight in the rich history, phenomenal cliffside views and award-winning culinary traditions of this fashionable seaside retreat. 

Included Shore Excursions:
Newport Included Tour
Newport, Rhode Island, also known as the "City by the Sea," has become one of New England's most popular vacation destinations. Initially a bustling colonial seaport, Newport has experienced multiple phases of growth throughout its history, which can be found in the intriguing and beautiful landmarks found throughout the city.
Day 5: Montauk, NY (Sag Harbor)
1 Breakfast, 1 Lunch, 1 Dinner
As the eastern tip of Long Island and New York itself, Montauk is often referred to as "The End." This destination is a hotspot for Eastern Seaboard explorers. You'll be amazed by the 1796 Montauk Point Lighthouse that greets us at our launching point to some of the most serene views in the state.
Day 6: Scenic Sailing on the Atlantic Ocean
1 Breakfast, 1 Lunch, 1 Dinner
Ah, another day on the vast Atlantic Ocean – a day to rise with the sun and meet with friends in the restaurant of your choosing over breakfast...or sleep in and order room service. Gather in the Compass Lounge for snacks and games...or take in the view from deck with your favorite cocktail in hand. This day is yours to craft as you desire. 
Day 7: Baltimore, MD
1 Breakfast, 1 Lunch, 1 Dinner
A visit to Clipper City brings a true taste of America. It's the birthplace of national legends such as Billie Holiday and "The Star-Spangled Banner." Literary treasure Edgar Allan Poe claimed it as his birthplace ­– even though he was born in Boston. This fascinating spot perfectly blends historic and modern. Visit the childhood home of baseball's first celebrity – Babe Ruth – explore the enchanting Inner Harbor and more. 

Included Shore Excursions:
Baltimore Included Hop-On Hop-Off Tour
As the second-largest seaport in the United States' Mid-Atlantic region, Baltimore's inner harbor was once the second leading port of entry for immigrants to the United States. As a major port, Baltimore was the subject of attacks by the British in the War of 1812, and the bombardment of Fort McHenry in 1814 inspired the words of the United States National Anthem. The "City of Neighborhoods" is teeming with plenty of history, industry, and art to explore.
 
Day 8: Norfolk, VA
1 Breakfast, 1 Lunch, 1 Dinner
Norfolk's maritime heritage becomes immediately apparent upon sight of the massive battleship USS Wisconsin (BB-64) docked in its harbor. One of four powerful Iowa-class battleships, "Wisky" served from World War II all the way through Operation Desert Storm. Now retired, she serves as a museum at the popular Nauticus National Maritime Center. Gardens, theaters, and dedications to WWII-era U.S. Gen. Douglas MacArthur, along with other attractions, draw visitors to the city.

Included Shore Excursions:
Norfolk Included Hop-On Hop-Off Tour
Norfolk's position along the Chesapeake Bay has historically made it a strategic military and transportation point. Today, Norfolk is the home of the world's largest naval base as well as one of NATO's Strategic Command Headquarters. Although known for its military presence, make no mistake, Norfolk is a town of vibrant culture, artistic expression, and scenic views by the bay.
Day 9: Scenic Sailing on the Atlantic Ocean
1 Breakfast, 1 Lunch, 1 Dinner
Set your cares adrift as the Ocean Navigator gently plies the waters, surrounded by seemingly endless horizon, on this relaxing day of ocean cruising.
Day 10: Wilmington, NC
1 Breakfast, 1 Lunch, 1 Dinner
The Eastern Seaboard is rich with naval and railway history. Explore part of that legacy at the Wilmington Railroad Museum on an included tour. Visitors stroll along the Riverwalk, ducking into pastel-colored shops, locally owned bistros, and seafood eateries with views of miles of open water. 

Included Shore Excursions:
Wilmington Included Hop-On Hop-Off Tour
Wilmington, North Carolina rests along the Cape Fear River. This historic town was settled by the English in the early 18th century and went on to play significant roles in the American Revolution, Civil War, and World War II. Wilmington is famous for its downtown Riverwalk, which was rated the "Best American Riverfront" in 2014. From the historic district to the thriving Riverwalk, there is always plenty to explore in this charming North Carolina town.
Day 11: Charleston, SC
1 Breakfast, 1 Lunch, 1 Dinner
Along the southern coast of South Carolina rests Charleston, boasting a unique blend of casual and sophisticated in the ever-present beauty of its blooming culture. This charming port features a maze of recreation ripe for travelers to navigate. Eyes light up at the spectacle of the candy-colored waterfront houses on Rainbow Row, and guests love surveying the ocean from the scenic seawall promenade of The Battery. These highlights and others make for an engaging included tour.

Included Shore Excursions:
Charleston Included Tour
Ripe with southern charm and hospitality, Charleston, South Carolina is a quintessential destination on the southeastern coast of the United States. The cobblestone streets of Charleston are overflowing with history around every bend. Traces of the past can be found all over town from the pristinely preserved architecture to the horse-drawn carriages traveling the streets. Charleston is certain to welcome you with open arms, while you listen to the exceptional stories the coastal town has to tell.
Day 12: Savannah, GA
1 Breakfast, 1 Lunch, 1 Dinner
A stroll through one of Savannah's city squares provides the proper backdrop for a renaissance of emotion, and the collaborative efforts of its architectural artisans have inspired a Southern-gothic aesthetic different from that of any other place. This pedestrian-friendly city is where the little things – breweries and mustard-based barbeque, live oaks, and lighthouses – come together to create a mighty experience. Be enticed by the bounty of the centuries-old City Market and explore history at Davenport House and other intriguing highlights on an included narrated tour through the cobblestone streets.

Included Shore Excursions:
Savannah Included AM
Separated from South Carolina by the Savannah River, Savannah is one of Georgia's historic coastal towns known for its antebellum pomp and splashes of American history. Experience southern hospitality Savannah-style in this city that has consistently achieved the honor of being named one of the "world's friendliest cities." While you explore the city, notice the unique blend of art, historic architecture, and trendy boutiques that make Savannah, Georgia so appealing.
Day 13: Amelia Island (Fernandina Beach), FL
1 Breakfast, 1 Lunch, 1 Dinner
This Victorian-style seaport is the stomping ground of adventuresome legends. It tells tales of bootleggers and pirates, shrimpers and seamen. Downtown is an enchanting village that flaunts its historic district in rich, lovingly preserved architecture. Drink in some local spirit on an included visit to the Marlin & Barrel Distillery, with tastings and a behind-the-scenes look. The party continues at the Palace Saloon, and the Amelia Island Welcome Center and Shrimping Museum peer deep into the brine for insights on a crucial local industry.
Day 14: At Sea
1 Breakfast, 1 Lunch, 1 Dinner
A perfect day for indulgence – treat yourself to a massage or your favorite beauty treatment – or take in the view from the Observation Lounge.
Day 15: West Palm Beach, FL
1 Breakfast, 1 Lunch, 1 Dinner
From the historic charm of Clematis Street, with its boutiques, galleries, clubs, and markets, to stunning public gardens and enriching museums, West Palm Beach beckons with eclectic architecture and casual energy.
Day 16: Nassau, Bahamas | Disembark
As the journey concludes, there are other opportunities for you to take in the town. Enjoy the city at your leisure, or consider a post-cruise premium experience with airport transfer.
Dates & Prices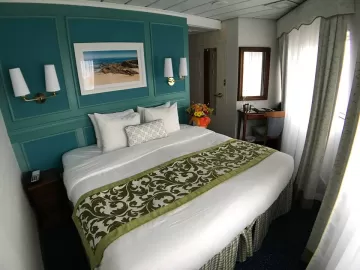 Oceanview stateroom, queen bed, armoire, chest of drawers & fresh fruit daily. (Deck 1 / 160 sq ft)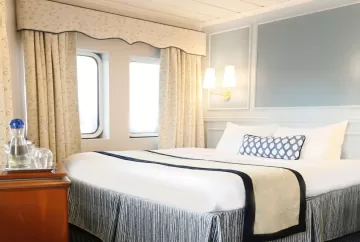 Oceanview stateroom, two twins or one queen bed, armoire, chest of drawers & fresh fruit daily.(Deck 1 / 158 sq ft)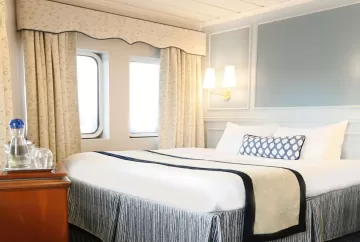 Oceanview stateroom, two twins or one queen bed, armoire, chest of drawers & fresh fruit daily.(Deck 2 & 3 / 152 sq ft)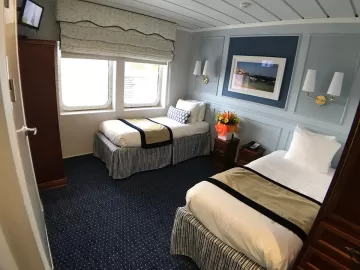 Oceanview stateroom, two twins or one queen bed, armoire, chest of drawers & fresh fruit daily.(Deck 3 / 146 sq ft)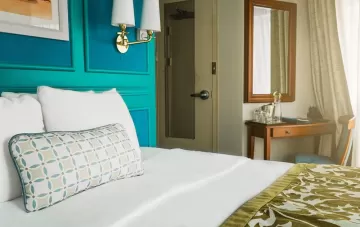 Oceanview stateroom, two twins or one queen bed, armoire and chest of drawers & fresh fruit daily.(Deck 3 / 185 sq ft)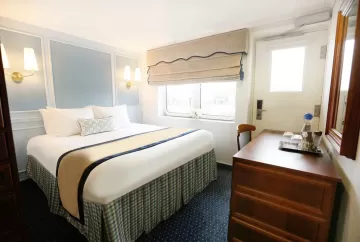 Oceanview with direct access to the open-air promenade. Two twins or one queen bed, armoire and chest of drawers, mini fridge & fresh fruit daily. (Deck 4 / 161 sq ft)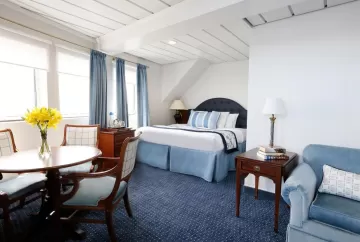 Select a Date
Owner's Suite
Oceanview suite sweeping views, a private terrace, one queen bed and one sofa bed, sitting area, complimentary minibar, complimentary laundry service & fresh fruit (Deck 3/335 sq ft)
Notes
Price Includes:  
Pre-voyage hotel night
Masterful regional cuisine with specialty and casual options
Entertainment each evening
Shore excursions in each port of call
Afternoon tea service
Cocktail hour daily
Complimentary non-premium beer, wine, spirits, tea, coffee, filtered water, and soft drinks
Wi-Fi in all public areas
Onboard enrichment
Price does not include:
Port charges per person depending on the itinerary.
Air & Transfer costs.
Gratuities on board or for any shore excursion personnel, such as tour guides or bus drivers.
Inquire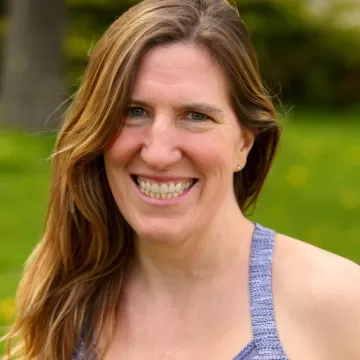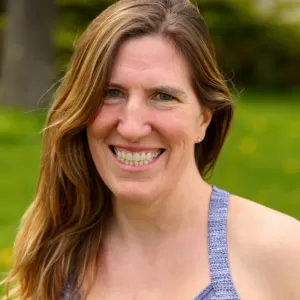 We Love to Talk Travel
Call
1.800.344.6118
or
Chat Now
I could not be happier with my Adventure Life experience, from beginning to end. I travel a lot, and I think your company and personnel do an outstanding job. I truly appreciate your professionalism, attentiveness, and flexibility. I wouldn't hesitate to recommend your company and would be happy to serve as a reference.
Constance Block
Atlantic Coast Travel Guide
Favorite Atlantic Coast Cruises