Summer has arrived. School is out and the sun is in. Vacation plans are on everyone's mind. If you are looking to travel to Peru, a visit to the Inca Trail is likely on your list of activities. This ancient and unforgettable highway climbs mountain passes, meanders through river valleys and descends through cloudforest to arrive at the lost city of Machu Picchu over a 4 day pilgrimage. It is one of the most popular destinations in Peru travel.

In order to better manage and protect this wonderful treasure, the National Institute of Culture (INC) and Machu Picchu Historical Sanctuary Management Unit (UGM) have recently instituted new restrictions to hiking the Inca Trail. The new restrictions limit the number of hikers on the trail, which is great news for conservation along the trail. Unfortunately, the restrictions are implemented through a new reservation system that makes confirming last minute Inca Trail tours more difficult than ever.

In past years, Adventure Life easily arranged Inca Trail trips a month or less in advance, even during peak travel season in Peru. This year, however, we have found it increasingly difficult to obtain Inca Trail entry permits from the UGM and INC for travelers planning less than 30 days in advance. Under the park service's new reservation system, we highly recommend that travelers schedule Inca Trail tours at least three months ahead of time during the peak travel months of June, July, and August.

The Inca Trail is not to be missed. It offers spectacular views of the mountains, as well as a unique and vast variety of vegetation and animal life, some of which are considered to be in danger of extinction. The trail also offers a rare glimpse into the remarkable past of the people who carved a lasting impression on the landscape and culture of the region. Discover the Inca's historic and highly developed irrigation system, along with the remains of their palaces, temples, and fortifications. Adventure Life Journeys offers a number of travel packages that give you the opportunity to walk the in the footsteps of these early people. Check out our web-site at: www.adventure-life.com/peru
for more information on our Peru tour options.
Want to Go?
continent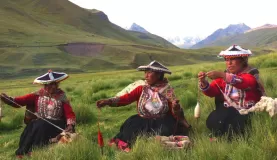 country