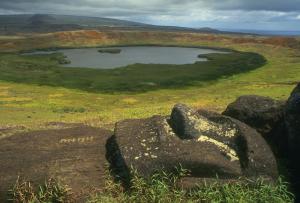 UPDATE 10/28/10: As of Oct 28 (interestingly enough one day after I posted this article) LAN announced flights from Lima to Iguazu will now go through Foz do Iguazu International Airport (IGU, Brazil) replacing the original published operation from LIM-IGR in Argentina. Still totally doable -- but now many travelers (including US travelers) will be required to purchase a visa for Brazil.
LAN airlines
recently announced new direct flights from Lima, Peru to Iguazu, Argentina -- and direct flights from Lima, Peru to
Easter Island, Chile
. So what's the big deal? Well, prior to these offerings, travelers had to fly - and overnight in - the capital cities of Buenos Aires or Santiago, and then purchase additional flights to
Iguazu
or Easter Island ... all of which added excess days and costs to the itinerary. The new direct flights not only make travel easier, but save time and money; travelers' two most coveted commodities.
Offerings include both round trip Lima-Iguazu-Lima and Lima-Easter Island-Lima; or one-way options. Flights schedules are somewhat limited, specifically for the round-trip Lima-Easter Island-Lima (and quite honestly can get a little pricey). But there are plenty of one-way flights available typically starting around $270.
These new international flights are a direct result from the combined requests of Adventure Life, our travelers, and other companies in the travel industry who share our mission to make great travel effortless. Very cool LAN.
Need help putting it all together?
Contact us
.