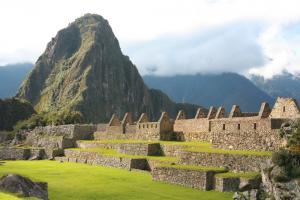 Machu Picchu reopens as scheduled, April 1, 2010. Celebrations were held in Machu Picchu Town (Aguas Calientes) and in Cusco -- not to mention in our Adventure Life office. The Inca Trail to Machu Picchu is also opened.
Access to Machu Picchu is very limited -- the rail is the only practical way to the ruins, other than your own two feet on the Inca Trail. When downpours in January washed out portions of the railway, access to the ruins and the nearby town was virtually impossible. The open of the railway and Machu Picchu is celebrated by Peruvians and
Peru travelers
alike!
There are still portions of the rail that are not in operation. So travelers will use a combined method of train and vehicle transport.
Travelers will take a car or bus from Ollantaytambo to Piscaycucho (50 min.); then board the train at Piscaycucho to Machu Picchu Town and the ruins (70 min.). If things continue to go as scheduled, the entire rail is estimated to be running as usual within the next two to three weeks.
Machu Picchu and the Inca Trail are not only visually stunning, their history, cultural importance, architectural mastery, and spiritual significance have graduated this region into legendary status.