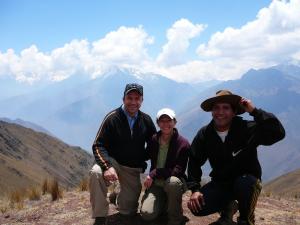 Some of our Peru travelers have already had a chance to meet Alex, one of our Peru guides. For those who have not it's my pleasure to give a brief introduction.
The Particulars:
Alex has worked as a guide in Peru for the last 13 years -- primarily leading
trekking and cultural tours in Peru
to some of most sought-after destinations in the region. Born in Lima, he spent his childhood in Chiclayo and Trujillo before moving to England, where he lived for 5 years, traveling all around Europe. Alex finally settled in Cusco in 1996, after graduating with a degree in tourism. Last year, he spent 3 months living in the US, to learn more about North American culture.
The Person:
Alex says...
Guiding is my passion. I love that I have the position to make sure travelers take home the best memories of Peru and its cultural legacy. It is also a great pleasure to bring joy and happiness to travelers during their stay in Peru.

I think a good guide must have strong communication skills, high knowledge of all subjects, be very attentive to details and the desires of travelers, and have alacrity for excellent service at all times.

I am passionate about the history of all major cultures from the ancient world – and comparing these cultures with the great Inca culture. In addition, I love nature, and am a passionate birdwatcher. I've been blessed with a good sense of humor, play a little guitar, and enjoying giving people a smashing good time while in Peru!