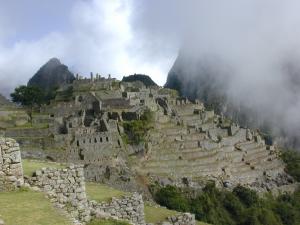 UPDATE: As of Feb. 22, 2010, there are changes to the original schedule regarding re-opening access to Machu Picchu.
Click here for details.
Many of you are familiar with the heavy rainfall that hit southern Peru at the end of January. Peru is no stranger to such downpours, but this season the rainfall that hit the region, flooded the Vilcanota and Urumbama river and caused mudslides that made headlines for damaging the railroad to Machu Picchu and limiting access in and out of the region. Machu Picchu was built by the Inca empire, strategically hid away in the Andean mountains; the train has been essentially the only way in and out of the region -- other than by your own two-feet on the classic Inca Trail trek.
The weather and rainfall has returned to normal, activities in surrounding areas such as the Sacred Valley and Cusco are operating as usual. Machu Picchu itself was not damaged by the mudslides -- thanks almost entirely to the master Inca engineers who originally built the structure, which includes an impressive drainage system to filter water away from the city and off the mountains. If you happened to see the feature on NOVA "
Ghosts of Machu Picchu
" you know what I'm talking about. Like I said, Peru is no stranger to downpours...
But while the main rail is damaged, and access limited, there are a few changes travelers should know regarding a visit to Machu Picchu in the next few months.
As of today, here is the most recent and reliable information we have. In order to reestablish access to the ruins and Machu Picchu Town (also called Aguas Calientes) the railway operator,
Ferrocarril Transandio S.A.
or FTSA, has outlined the following schedule.
1. Hydroelectric to Machu Picchu Town: In roughly two weeks (by Feb. 22), visitors and residents will be able to use bimodal transportation to get back to Cusco from Machu Picchu town. This means a train ride from Machu Picchu town to the Hydroelectric station in Santa Teresa (about a 45 min. trip), and from there to take a car back to Cusco (roughly 6 to 7 hour trip).

2. Piscaycucho to Machu Picchu Town: In roughly 6 weeks, visitors will again be able to reach the ruins by combined means of train and car, but in a lot less transport time than the first option. Here, visitors can take a train from Machu Picchu Town to Piscaycucho (1 and 1/2 hour trip), and from here, take a car back to Cusco (another 1 and 1/2 hour trip).

3. Ollantaytambo to Piscayucho: This is the final leg of the common rail route, that is hoped to be complete within 7 weeks. This means, it is estimated that regular rail operation to and from Cusco to Machu Picchu Town will return to normal within 7 weeks.
Please note, these are of course subject to change, but we remain confident that FTSA and the Peruvian government will stick to this schedule as closely as possible. And pressure to do so, is great.
Regarding Inca Trail Trekkers:
Each year, the
Classic Inca Trail
is closed in February for normal maintenance. As of now, it is scheduled to reopen as usual. However, once trekkers reach Machu Picchu, they may encounter difficulties returning to Cusco. If trekking within the next 7 weeks, travelers will need to utilize one of the three options listed above to return to Cusco.
Rest assured, everyone, from the Peruvian government to the local infrastructures, residents of Machu Picchu Town and the Peruvian Tourism Board are working as hard as possible to re-open access to Machu Picchu and its nearby community.
If you are at all concerned about how this will affect your itinerary, ask us! We are in constant communication with our local Peru affiliates and receive consistent updates from the Peru Tourism Board.
And keep in mind, while Machu Picchu is an unforgettable place to visit, Peru offers nearly unlimited historical sites and activities - many of which rival the legendary Machu Picchu. The Nazca Lines, Ollantaytambo, the Amazon, Colca Canyon, Arequipa, Lake Titicaca... not to mention Cusco and the Sacred Valley, which along with fascinating culture and ruins, include awesome multisport activities. There are many other
hiking circuits
in the Andes to explore as well - many sought after by the world's best trekkers. Want to know other hidden-treasures Peru has to offer? Again, ask us! A handful of our staff has lived, worked, visited or study in Peru and love to share our experiences. Myself included!
Volunteering:
If you'd like to lend a hand to some of the people who have been affected by the flooding, we have received a request from our local affiliates to encourage our travelers to participate in needed activities in the Cachiccata community. Such activities include house and school restoration, healthy meals for kids, community cleaning or a handful of other
service projects
to consider.
I'll keep you posted if there are any additional changes to the rail route and access to Machu Picchu.