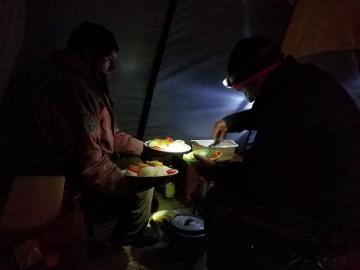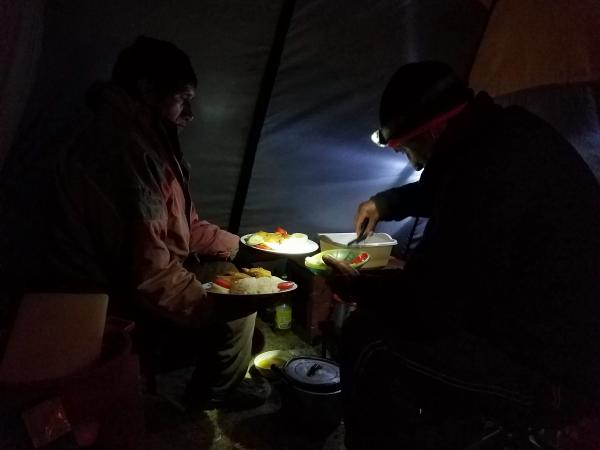 The best thing about Adventure Life treks is that pretty much everything is handled for you. An English speaking guide to clue you into what you otherwise wouldn't know or notice, a porter or pack animal to help carry your belongings, a cook to prepare creative meals for you while on the trail. We got particularly lucky with our cook, Justino. Justino was certainly more than our cook - he was cook, muleteer, guide, and friend. He worked seemingly 24 hours a day.
I'm not exactly sure how Justino concocted the backcountry cuisine he came up with, but it was amazing. Every day, there was something new and delightful. One night we had lomo saltado (steak in the mountains!). Another night, he baked an incredible vegetarian dish - local peppers stuffed with cheese, quinoa, and veggies. The next night, he was able to get fresh meat from a local woman and cooked spaghetti bolognese. My favorite was the estofado de pollo, a Peruvian dish made by braising chicken in a tomato sauce enhanced with the sweetness of wine and raisins. It's served over potatoes and rice.
The highlight came when we were camping at Catatambo. Justino and Clemente (our muleteer), hiked up to Laguna Juraucocha to fish for dinner. I was a little dubious as first as to whether they would return with hands empty, but a few hours later they ambled back into camp with six rainbow trout! Justino fried them up for supper and we feasted that night.
Breakfasts were always filling and delicious. Breakfast sandwiches with egg and cheese, oatmeal, pancakes, quinoa porridge, omelettes with tomato and local cheese. Always too much food, there were plenty of leftovers. Right away, we noticed that there was a community dog or two at each of the campsites. These dogs would hang around, patiently waiting for groups to finish their breakfasts and dinners. I thought it was so sweet that all of the cooks would take the leftovers outside and give them to the dogs. And it wasn't just our group - every group did this. When I asked Justino about it, he said there was plenty for everybody. He said the dogs mostly had owners who lived up in the mountains. The dogs were there to protect the sheep and cattle, but they were smart enough to know where to go for food. Even they got to partake in the backcountry cuisine!