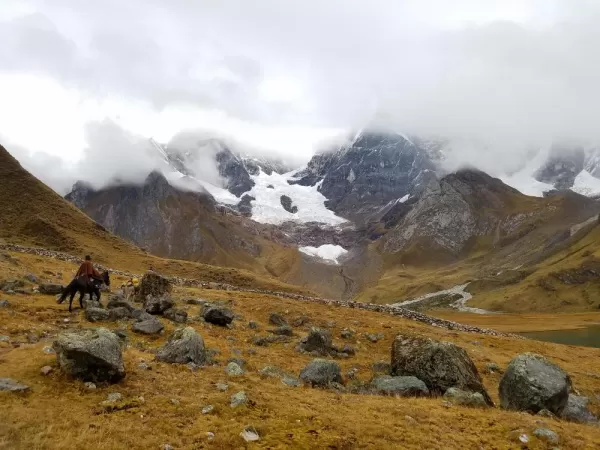 As mentioned in another post, the Cordillera Huayhuash is not part of a formally protected area. Unlike the Cordillera Blanca, which encompasses a National Park and is administered by the park, the Cordillera Huayhuash is not protected and is managed by nine local communities. The communities maintain the circuit's campsites and trail network, charging tourists for the privilege. The community fees range from 10 soles per person to 40 soles per person.
Each community has a cobrador or two (collector) who makes sure that every tourist pays the entrance fees. These cobradores work for 10-15 days in the mountains and then get a period of time off with their families before they have to return. Essentially, when you get your ticket you are under the protection of the local community and the community seems to understand its responsibility to the trekkers. Since the community directly gains income from the trekkers, it provides a negative incentive for any member of the community to harass or steal. I can imagine that if someone robbed a trekker, that it would reflect EXTREMELY poorly on that specific community. That the community would root out the thief and there would be consequences. Where I lived in Guatemala, thieves were sometimes banned from their communities.
It's a compelling way to manage the Huayhuash. The communities have decided to protect certain special areas from grazing, camping and other uses. Such as San Antonio Pass. Justino relayed to us that about 5 years ago, the communities decided to limit use in that area as it is habitat for native Vicuña. No pack animals are allowed on the pass, just trekkers. It was one of the only times we didn't see cows grazing. It's encouraging to see local communities organizing and managing without outside interference. It's possible that the Huayhuash will gain protected status by the Peruvian Government in the future. Justino didn't think it would cause undue conflict between the communities and the government because it's understood the government won't evict the grazers in the mountains. And the communities rely on those livestock - most herds are community owned.
From my perspective, it would be nice to not have to deal with cows, sheep and their excrement. To walk so far into the mountains and not see any evidence of human impact on the landscape. But that is not the reality of this landscape and to pretend otherwise would be disrespecting the Huayhuash and its people. The local people and their ways of living only enrich the experience. Plus, they built amazing flush toilets in the middle of nowhere and keep them totally pristine. Just bring your own toilet seat.