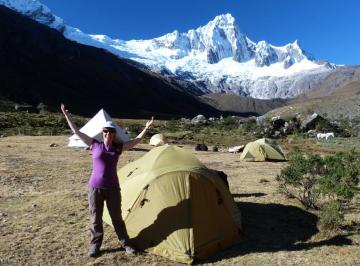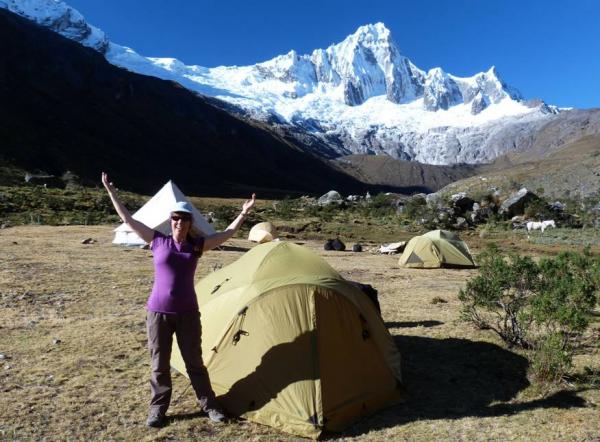 After arriving in Lima late at night, my 3 friends and I the next afternoon took an 8 hr bus ride up to a mountain town called Huaraz. Lima is on a desert coastal plain with not much to offer in regards to visual beauty as compared to other South American capitals, so we were happy to arrive at El Patio de Monterrey the following evening, a family owned hotel that was carefully planned to place each of the 8-10 room buildings facing a beautiful green oasis or a fountained courtyard. Huaraz is a large mountain town located in a valley at 10,000 foot elevation, bounded on one side by the stunning white glaciated peaks of the Cordillera Blanca (a segment of the Andes) and on the west by the Cordillera Negra (a drier lower range with no permanent snowcapped peaks). The Cordillera Blanca includes Nevado Huascaran, the highest mountain in Peru at 22,205 feet. Its massive presence dominates views to the north of Huaraz and reminded me of Alaska's Denali.
We stayed in Huaraz a couple days to acclimatize to the elevation. Our guide who would lead us on our upcoming 5 day trek, met us each morning at the hotel and took us on local hikes each day up to 14,000' - the first one to the surrounding rural villages and to an over 2,000 year old pre-Inca Wari ruin, Wilkahuain and the 2nd to a beautiful mountain lake, Laguna Churup. On our 4th day in Peru, we were ready to start the Santa Cruz Trail, a particularly beautiful section of the Inca Trail, which in 5 days, would take us through 3 different valleys and over two passes close to 16,000' high with mountains still towering over us at 20-22,000'!
The 4 of us, together with our guide, cook, wrangler, 3 donkeys, and a horse, set out on a beautiful sunny day from the little village of Cashapampa. The tall granite canyon walls on day one and two would reveal here and there the stunning white-capped peaks behind them and then at the end of the 2nd day, there we were from our base camp looking up at the magnificent glaciated Taulliraju Mountain. We all just kept shaking our heads in disbelief that we were actually seeing and experiencing such alpine beauty (and we've all backpacked in numerous mountain ranges in the Rocky Mt states). We also couldn't believe our good fortune with the weather - the sunny daytime temperatures were comfortable for hiking at around 65 to 75 degrees, although the nights were very cold and I wished I had brought my expedition weight thermals to sleep in instead of my mid-weight!
The geology was fascinating as well as beautiful - it reminded me of places in the Utah Canyonlands in regards to how exposed and obvious the various geological events were over millions of years- floods, uplifts, glaciation, wind and water erosion on a massive scale. There was much for a botanist to take delight in as well – beautiful alpine wildflowers, lupine shrubs flowering in mass over 5' tall, and high elevation montane bunch grasses. In addition to the stunning scenery, we all thoroughly enjoyed the company of our guide, cook and wrangler, who each did a wonderful job of making our trip so special with their knowledge, excellent local cuisine, and lots of good-humored laughter as we stumbled with our Spanish. This trek was on a grand scale that I had never experienced before - a trip of a life-time that I would highly recommend!