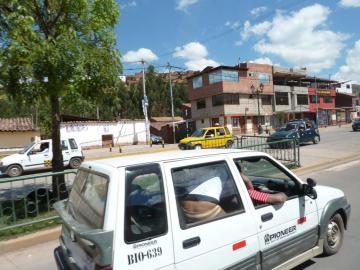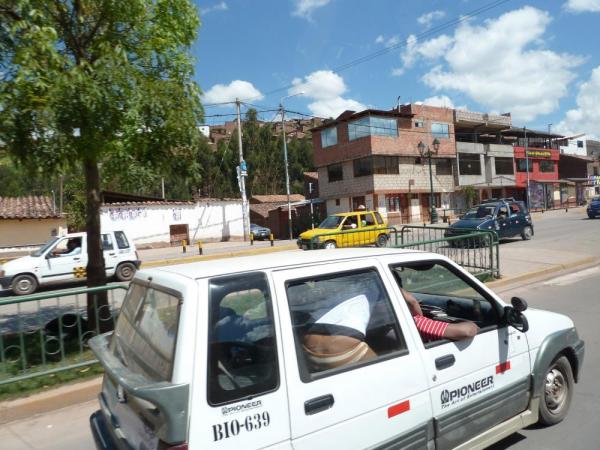 So basically breakfast and then we went on a hike by some train tracks. Scenery was gorgeous and stunning as usual. Walked through a garden with a lot of neat orchids etc. and got to see this waterfall. Was a small one but looked nice nevertheless.
I must say that the walk back was interesting. I know I haven't mentioned dogs yet, but I'd be amiss if I didn't as there were dogs everywhere. With my intense phobia, I've still managed to walk and ignore the dogs but today before the waterfall hike as were were going to pay for our tickets, the woman's (owner) dog kept coming towards me. I came so close that I did jump and get out of the way. Boris got mad. He said, *Never do that!* I tried to plead with him that the dog was to close, but Boris said doing that will make a dog attack me. And Boris assured me that he was right there with me. OK. So that happened. On our way back as we walked by the railway, I noticed these 2 women tourists and a dog was walking by them. Since we were walking faster, we almost caught up to them and the dog. They stopped at the local fruit vendor and that's where we stopped too. I got my first taste of Passion Fruit. LOVED it. Little slimy but sweet with consistency. Couldn't eat the seeds so we swallowed it, of course. I being a fruit junkie bought 2 more passion fruits and carried them in my hand. As we walked away, the dog decided to walk near us and of course, decided to walk more near me. And of course, I was freaking out and finally Boris said, *Put those fruits in your pockets. He thinks you are going to feed him.*
I did as I was told, but dog continued to walk by us. Salman and Boris decided to walk between me and the dog and tried to keep the dog away from me. I continued to walk faster. I wasn't walking with Boris or Salman, but I figured they'd meet up with me eventually and they did. When they did catch up with me, there was no dog. I think I asked Boris what happened to the dog and he came up with the preposterous story that he and Salman threw the dog into the nearby river or something like that. I think other than the dog part of the day, everything else was great.
Then back to the hotel, back on train. On the train was interesting. They had this man wear a tiger mask and dance with a stick and they had a fashion show where the steward/ess changed and walked down the train aisle to display clothing that can be purchased. Then back to Ollantaytambo to pick up luggage, in car to Cusco.
Stopped at pottery factory and saw how they make those neat pots, cups, etc. And then back to Cusco. Boris took us for some roast chicken. It's Peruvian as it's roasted in a wooden oven. Something about the flavor. I loved it anyways and Boris and Salman commented *What does she not like?*
Back to hotel. We met Luke sitting at the reception that evening and he was in Peru for 2 months. He'd already been there for a month. He showed us pictures of where he went. He showed us the caterpillar/butterfly rock. And then the entrance to a temple I cannot remember the name. He said he slept outside the gate and those nights his dreams were very strange. I asked him why strange. He said one night he dreamed he sued Yahoo! And other dreams, he had conversations with his dead friends/relatives. We went up to our room shortly after but Salman went out again to exchange money. Apparently Luke joined him. Salman said his 1 minute analysis of Luke was that Luke was getting over a long term relationship and this was his way of getting away. Well, I thought it was strange someone had the time/finances to be able to take 2 months off just to travel irrespective of one's personal situation.
I started packing, rearranging to see what else to buy if I could buy anything. I've spent $200 already!