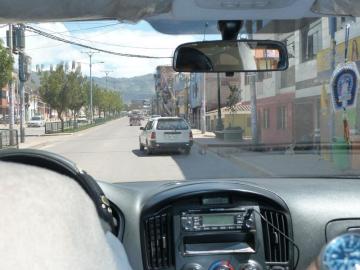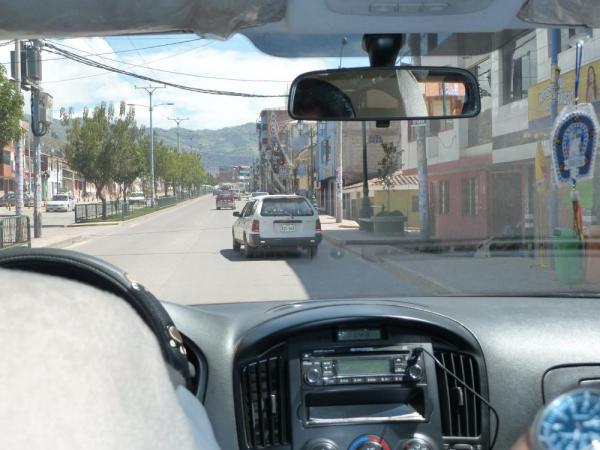 Now that I discovered Passion Fruit, had 2 for breakfast, among other things. Then off to the tour. We visited the local cemetery. Very interesting concept of never letting the person die and leaving stuff for them in their little glass head pieces. It was amusing. People left small models of coca cola, alcohol, and lot of other stuff. They leave a small glass of water as a symbol of getting something to drink on their way to heaven. Very different concept of death in this society. Essentially, the person stays alive - or they believe the spirit stays alive and comes and sits with them.
Then we walked to the local market through shady neighborhoods. Boris said we were fine with him, but not recommended alone! Also Boris said, the would NOT go to that neighborhood at night.
The local market was interesting. LOTS of EVERYTHING - meat, vegetables, fruits, cooked foods, cheese, spare parts, chocolates and coffee. Just EVERYTHING was a neat experience although stinky. I've been to fruit markets before but nothing so elaborate. I was impressed. Oh and I think I've forgotten to mention that the area produces 1000 varieties of potatoes, so yes, there was a potato aisle too.
Then we went to Saqsayhauaman. Another part of the Inca ruins that are left. LARGE boulders in a lightning zigzag pattern, with 3 levels.
Then off to the handicraft market. OOOPS - forgot lunch. Ate lamb at local restaurant and tried leg of a guinea pig. Guinea pig was tasty. Then we ate fruits - sweet cucumber, custard apple, and another fruit that was similar to the passion fruit but was more bitter. Boris' girlfriend joined us. Carmen was nice. Boris ordered her soup of beef with intestines and stomach. I ordered half of it and it was alright. I still prefer the soup I had in San Antonio at the mexican restaurant - beef with intestines. This was not like that at all.
Then we went to the handicraft market. I bought models of Machu Picchu and just random gifts like magnets. I fear $100 was gone today and I've exchanged another $50. I hope I can stop with that.
Oh and Boris arranged our tour tomorrow and arranged a car to pick us up at the airport in Lima. I hope all goes well with it.
It's strange. We're done with Boris now. I've added him as a Facebook friend if I need to contact him, but it's almost bittersweet. My trip is coming to a close. That's it for now.