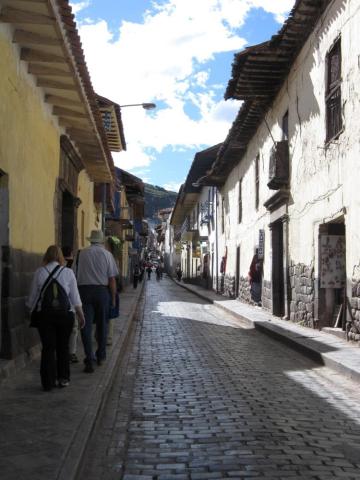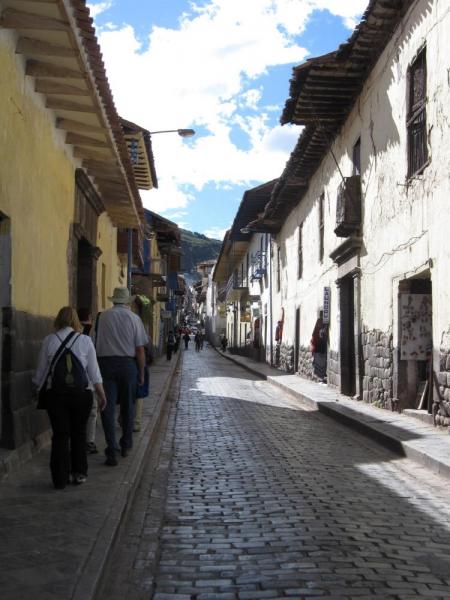 We woke to a beautiful sunny day. After a simple breakfast we met our guide for today, Alberto and our driver George. Today is our Healthy Breakfast Program excursion. We are very excited about this. We will be going to a market to buy some food for breakfast to take to the children at a nearby school.
Alberto took us to the local market in Ollantaytambo. It was really interesting. We bought apples, cheese, buns, oatmeal, sugar and milk. We then drove along a narrow, rickety road across the valley and river and up to Cachiccata. Alberto had called ahead so they had a very large pot of water on the fire ready when we got there. Because it was Sunday , and not a school day, it was set up in a yard. Soon after we arrived word got out that we were here and the children started arrriving, with a cup in their hand. They ranged in age from 2 to 16 and there were about 35 children altogether.
While waiting for the oatmeal to cook we handed out the apples. Diane and I had brought school supplies . Canada souvenirs and some fun things. We had 3 bottles of bubbles which they enjoyed trying to catch and also some balls and a soft football which the boys enjoyed playing with.
Then the oatmeal was ready, they make it more as a drink. They all sat around eating and drinking. We took lots of pictures of the children and they liked seeing themselves on the camera. They sang a couple songs for us. They were all really polite and happy and laughing. We then had to say goodbye. It was a great experience visiting with the children and we would highly recommend to everyone.
We had a fabulous lunch at a nearby community restaurant and then had some free time in town.
We watched some local costumed dancers and bands that we happened upon. They were very good.
We had a delicious supper at the Heart Cafe in the main plaza of Ollantaytambo. I will miss this town, it is very peaceful and beautiful.
Tonight we pack for our hike! Vidal had given us each a duffel bag for our things the porters will carry and we get our daypacks ready also. There is a full moon tonight, and FYI the phases of the moon rotate the opposite way on this side of the equator.