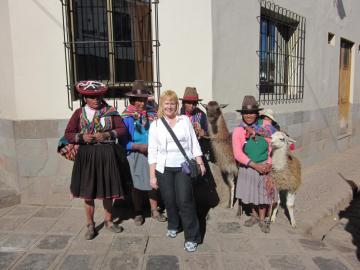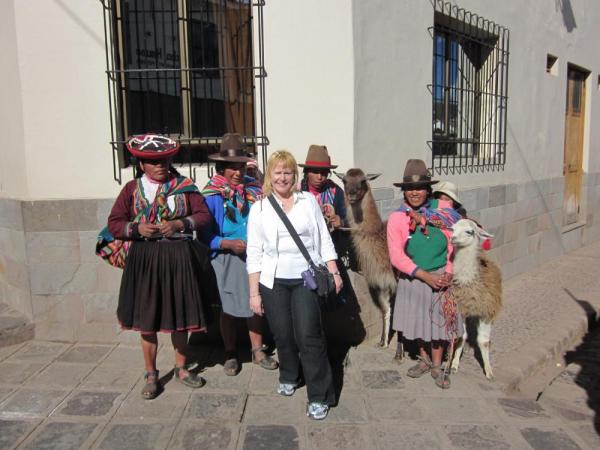 The Big Day. After breakfast we take our van, with Vidal of course,and drive aout 45 min. to Kilometer 82. We met our 10 porters. Yes! 10 porters for the 4 of us and Vidal. The porters even carry a propane tank for cooking. After we all get checked thru the passport control, 11am, we head across the bridge over the Urubamba river and up the first hill. It is a beautiful sunny day. There is a fair amount of up and down hills, we huff and puff a bit. Vidal says this is Peruvian Flats! I don't think Peruvians have ever seen the Prairies back in Canada. They are flat! This here would be considered hilly back home.
The scenery is already magnificient! We see many wild flowers, hummingbirds, and Inca ruins, including Llactapata, which is amazing.
Our snack bag includes an orange, chocolate, oreo cookies and candy. We arrive at the lunch spot around 2 where the porters have a delicious meal of soup, chicken pie, broccoli,cucumber, avocado fruit drink and tea.
We set out again and soon the porters pass us. Vidal teaches us to stay to the mountain side of the path when porters or especially donkeys are passing by , to be sure we don't get accidentally knocked off the side of the hills. A couple more hours and we make it to our first camp. There were a few spots along the way to buy water and gatorade and also at our camp spot. We are camped beside a local families home. We met their little girl, Chiquita. Very cute.
It does get dark here in Peru by 5:30 this time of year and by supper it is getting cooler. Time for the long sleeve top, and fleece jacket and warm hat. Supper was delicious and there is always lots to eat. Soon after we retire to our tents.