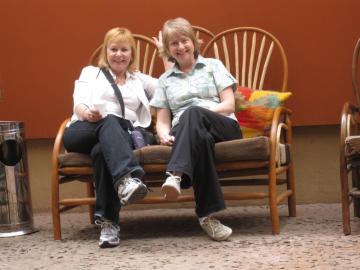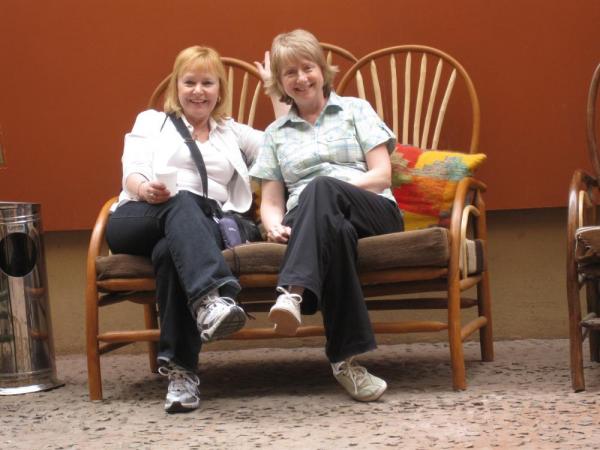 Today Peg & Chris were off on a White Water rafting adventure so Diane and I were alone with Vidal.
Our driver took us to Chinchero first. It is a neet Inca town at 12,000' It has narrow cobbled streets going up the hill, so many stairways again, and agricultural terraces. There was a beautiful church with many paintings on the ceilings and walls and also framed paintings. Vidal is very knowledgeable about everything!
We had a demonstration for the weaving, and saw how they spun the wool, got the colours to dye and then weave it. Very interesting! Vidal ran into a family he knew that was headed out to their potato farm so we gave them a ride and helped out a bit. We helped gather big clumps of earth that they used to build an oven, in which they started a fire and would cook some potatoes and bean. I tried some corn beer with strawberry , It was really good. It was very interesting to interact with a local family. It is great to be in a small group, with a great local guide, to give us such opportunities.
After visiting the Salt Mines we drove to Moray, where there are round terraces, like an amphitheatre. Vidal told Diane and I to go wander around and he would get a snack ready. Actually he set up lunch! A table, chairs, tablecloth, dishes and the most delicious lunch of pasta, chicken, bread, pasta, pop, mango cake and tea. WOW! Also in a beautiful mountain setting! You really couldn't ask for anything more. We then took a long, winding,narrow road to Ollantaytambo. The Inca fortress here goes up the side of the mountain. There were great views from the top, but many stairs to get there. Another pre Inca Trail test!
After we checked into our hotel, El Sauce. It was very nice. As we sat in the lobby they brought us a nice pot of coca tea. Actually we didn't seem to have a problem with the altitude. After we wandered the narrow streets of town, had supper at Heart Cafe and then back to our room. Again we were very tired by 8:30pm.