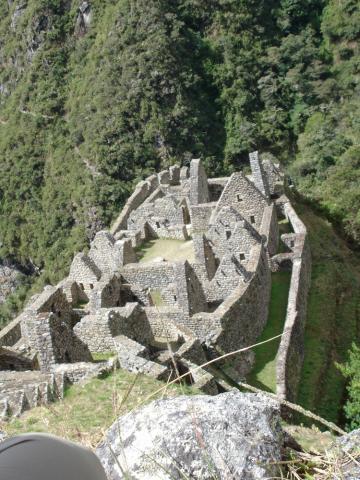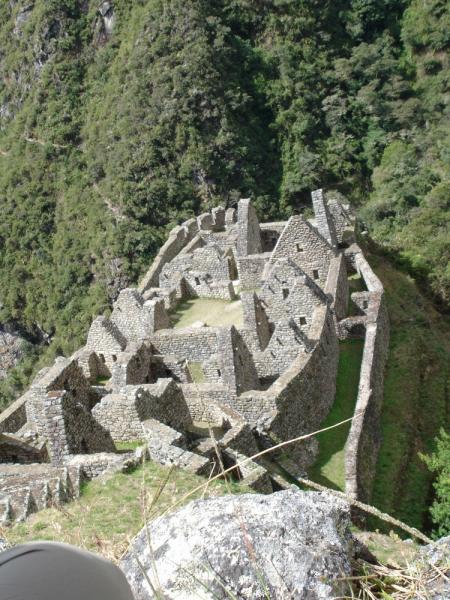 This morning we got up early to go on a birdwatching walk but were met with a flock of wild parakeets squawking overhead just outside our room as they landed in a coral tree to eat the flowers. And this was before the birdwatching! This place has so many different types of tanagers and hummingbirds it's amazing. After breakfast we took another tour and saw orchids, medicinal plants, more birds and cloud forest fauna, and toured the tea garden and house. On one trail we had a long distance view of Huinay Huayna. This was a very difficult view to leave, as we found this site very special. Because the only way to fully see this ruin in to hike in, and I am afraid as I get older I may not be able to handle the hike in, and I may never get to see this beautiful site again. Tears fill my eyes as I stand on the trail, as they fill my eyes as I write this. Perhaps the definition of Huinay Huayna, meaning forever young, will help me on a future trek in. Maybe we are not so Machu after all!
We noticed that due to the strike, there were no trains running, making today very quiet.
After a nice break for homegrown ice tea, Marco finds us and makes a great attempt at encouraging us to take hikes to Mandor or Putukusi because we did mention them to him before, but we Machus have decide to spend the day enjoying the gardens here. While wandering the trails here we see wild parrots, more tropical colored birds, and enjoyed more visits from the flock of parakeets at different parts of the grounds. We notice they graze from tree to tree as to not deplete all the food from one tree all at once. Pretty smart!
Before dinner we treat our tired, aching bodies to the Andean sauna, which we have all to ourselves. Heated with rocks, lit with candles and covered inside with eucalyptus, it heats every pore of our sore muscles. We step out more than once to plung into the natural spring water pond nearby. Since we can still walk, we then have a couple's massage and then are off to a late dinner.
Tonight we toast our planning as everything seems to be done in the perfect order. We fall asleep to the sounds of the nightime forest.