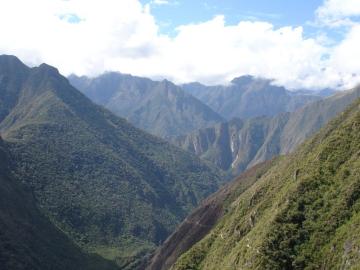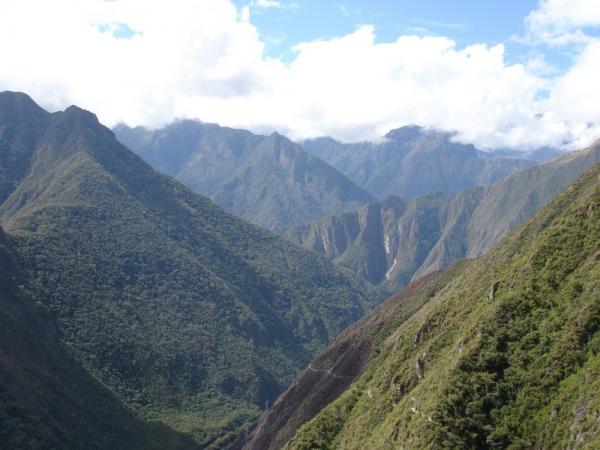 Today we have a great breakfast at the Monasterio to the sounds of the Gregorian chants. Then we meet Marco and take a taxi up to Sacsayhuaman. It is still early so the site is pretty deserted. This site is huge,with its massive rocks in zigzag shapes on the horizon. Marco points out some very large carved stones with seven stones surrounding them and we see this pattern at different areas, like doorways, and we wonder where they could have lead to.
Marco takes us to the tunnels and tells us the stories behind them,of hidden treasures,of people lost forever in them, of tunnels leading into the Cathedral in the Plaza. Then he asks if we are interested in going in! Well, of course Scot goes in with Marco and I wait on the other side to see if my husband and our guide return from the Ukhu Pacha, or the underworld. Of course, all is well, and we climb to the highest point so we can view Cusco. What a picturesque city it is, with its terra cotta roofs and splashes of green where its plazas stand out. We sit on a hillside to take more pictures of the Andes. I will miss these mountains and try to capture these moments.
Next we stop at Quenko and then Tambo Machay, where we learn about magical qualitiies of water and shamans.
Next we want to return to the city and visit the local market, so we get our wish. Boy, did we get our wish!
It helps being a nurse to identify all those body parts from the animals we saw hanging there, although I'm just not sure I'd want to eat the gallbladder. On the other hand, I heard they're good for bruises. I did accummulate a few along the trail, so, maybe...no, never mind! We stopped at the witches counter and very respectfully asked the woman for a protection from harm charm and after Marco examined it he noticed some herbs grown in the Amazon in the vial.
After lunch at a local place Marco knew, we went to the Center for Traditional Textiles of Cusco. There they have a museum with a wonderful collection of textiles to view and also textiles for sale from many different communities. We bought several pieces and each one tells us who made it, where they are from, what it is made from, and it includes the weaver's picture.
On our final walk back to our hotel with Marco I am still struck with how lucky we were to have him as our guide. Part historian, part scientist, part spiritualist, he is factually accurate and still always seeking the truth for his country and his heritage.
We pass elderly couples sitting in the plaza eating ice cream, smiling at us, either happy to see us or secretly happy to live in such a special place.
Before we say goodbye to Marco we give him the bags of clothing for the Maray Shelter, and tearfully hug goodbye, we say" be happy, be healthy, be true to your soul."
Before our final dinner in Cusco we tour the Museo de Arte Precolombino and then eat at the MAP cafe in the courtyard there. It is a Friday night in Cusco and the city begins to become alive as we walk back to our hotel, peeking at the Southern Cross before we go to sleep.