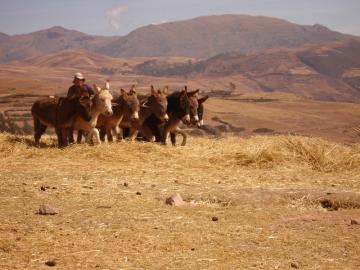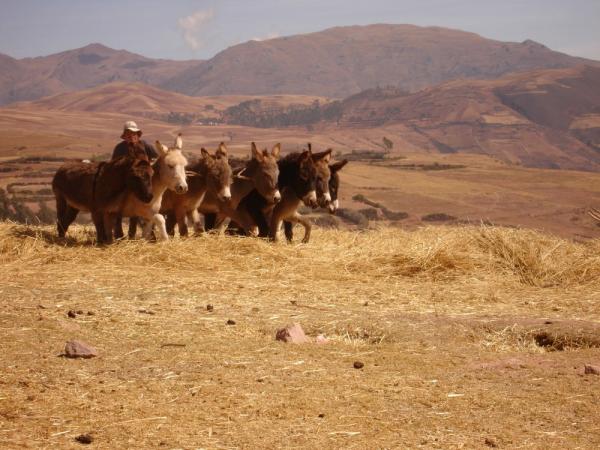 This morning we fly to Cusco and pass high over many snow capped glaciers, some razor edged. We are met at the airport by our guide Marco Palomino Tocre and the Cusco affiliates and our journey begins. First Marco makes sure we have bottled water for the ride, and when we don't he stops and picks us up two bottles and some candy.
Our ride was supposed to be a direct drive to Ollantaytambo with a stop for lunch, but Marco made a deal with the driver for a few more soles so we could visit Chinchero and there we learn how the women use the natural dyes for the textiles. One woman also shows us how they make soap from a root that they must climb high in the mountains to get. We walk the hillside and see potatoes everywhere and run into a pleasant Peruvian woman who has encouraged other tourists to take their shoes off and help her stomp the moisture out of the potatoes to help in the dehydration process. We sit on the hillside to catch our breath and listen to Marco begin to share the history and culture of the Peruvian people to us. He is a remarkable man. His passion is infectious and soon we are drawn in and begin to get a feel for the culture and sprituality of the Incas.
Our drive down into the Sacred Valley is beautiful,and we see the hillsides are painted with blotches of silver from the wild eucalyptus trees. We stop in Urubamba to have lunch along the way. We learn on this trip that Peruvian food is varied, fresh and delicious. You have to try a little bit of everything! Next we arrive in Ollantaytambo and check in at Pakaritampu. Marco makes everything so easy for us, which we are grateful for, as our Spanish is limited to hellos and goodbyes. We have time for a nap, and then we take a very short walk into the town of Ollantaytambo. This town is magical, built on Incan walls and still an active, busy Incan town. The people here are warm, direct and even if in a poverty situation have a great sense of humor. Marco tells us of his godson, living in a little hut with 10 people. The young boy says, "This hut is so small, when we sleep, we all have the same dreams!"
We climb the ruins of Ollantaytambo near sunset, with the shadows giving great picture shots. Marco has a way of planning visits to sites when they are the least crowded, which makes it more personal.
Marco then asks a local resident if it is OK for us to come into his home, which we are given permission to do. In this traditional residence shared with a few other families we enter a room with a dirt floor, dried meat hanging from the ceiling ,two skulls tucked in the niches of the Incan stonework guarding and protecting this home, and guinea pigs scurrying aroung on the floor, squeaking as we give them local grasses to eat. On our drive down into the valley Marco tells us about the special meal of cuy, or guinea pig, that it is eaten on a special occasion. We do consider trying it as this trip is a special occasion, but when we see the guinea pig babies running around on the ground, I'm not quite sure now.
At some point in the evening Marco points out the Southern Cross constellation in the sky. I've never seen that before coming frome North America and find it very cool.
We have a late dinner at a restaurant Marco knows. Again the food is great, and we go back to our room full and sleepy.
Did we actually do all this on our first day?