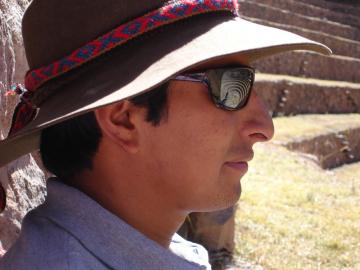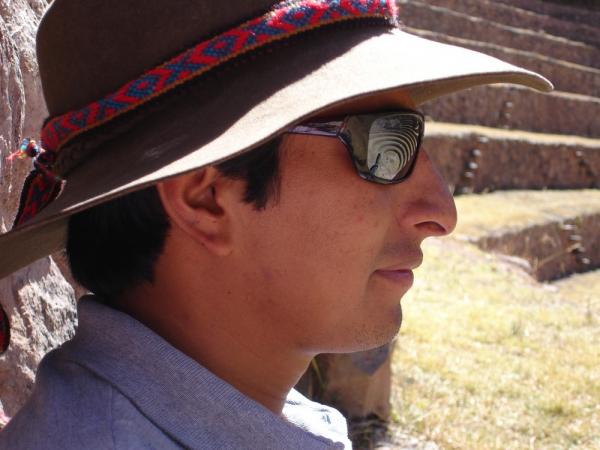 Well, today's the big day!
We start with an early morning breakfast, leave our duffel bags at the front desk, and make the very short walk to the train station with our carry-on bags. The train station is bustling but soon we're on the train and on our way. We watch the vegetation change from smaller, drier brush to taller, lush vegetation. We watch the Andes mountains open up in front of us. I am leary about leaving our luggage on a train still filled with people when we get off, but Marco assures me it will be at the Sanctuary Lodge when we get there. Next, we notice much conversation between Marco and the train staff. It seems the trail at Km 104, the stop we were to get off at, is recovering from fire. We can't get off the train until Km 106. This changes our approach to the Inca trail as we then take the porter's trail, leading up a series of switchbacks to meet the Inca trail. The plus side to this trail is that it is a bit more shaded and has no plunging cliffs. It is a very steep climb and I take many water and snack breaks, many encouraged by Marco. He also points out different flowers and birds along the way.
When we arrive at Huinay Huayna, I realize that we already climbed much higher than our original route via Km 104 would have us at this point. When I see the narrow trail along the cliffs that we missed due to the fire, I now see...all things happen for a reason!
We sit on the edge of Huinay Huayna and eat our lunch and we think there may not be a better view in the world to have lunch at, with our legs dangling over the side. The mountains all around us feel alive and comforting, like family. No wonder the Incas worshiped them, and we feel life in them too. I take many pictures here as I feel I may need their comfort when I return home.
As we pass through a checkpoint on the trail, I hear another tour guide telling his group to "keep it up", they had 1 1/2 hours to get to the Sungate. I looked at my husband Scot, and we had another "thank God we have Marco" moment. Our hike in on the Inca Trail was very special. We went slow but steady and we stopped to play hide and seek with an elusive tanager, mostly seeking! The flowers, vines and foliage in the cloud forest are incredible. We walked along the same stone paths as the ancient Incas did, and then we reached the Sungate. It almost seemed surreal, like we were still looking at it like a picture from a book. We looked at our time - we arrived 45 minutes later than the group being timed by their guide. On our hike, we played with the birds, experienced our environment, and walked in peace.
As we hiked in from the Sun Gate, Machu Picchu became closer and closer. From listening to Marco, I think I understand how sacred this site must have been for the ancient Incans and why there were so many security posts along the way to protect it. This is a great time of day to arrive as it is not very crowded and we can tour the site with what little energy we have left.
Marco is staying down in Aguas Calientes so he is leaving our admission tickets for entry in the morning. This will allow us to see the sunrise before he comes back up for a full day tour tomorrow.
He then helps us check in to the Sanctuary Lodge, and sets a time and place to meet us in the morning. Then our luggage magically appears and we fall exhausted into our rooms, enjoy the toiletries in our room, eat well at dinner and admire the full moon and the Southern Cross before we fall asleep quickly.