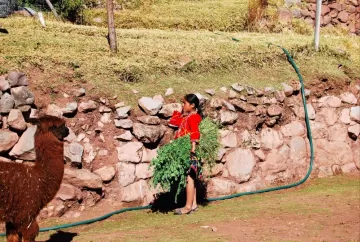 Traveling through the Sacred Valley really helped to put this whole region into perspective. I quickly became thankful that this is the format to which this trip was established because it allowed us to see how people REALLY lived in Peru. Had we not taken a trip through these areas, it would be like someone traveling to the United States and only seeing New York City; seeing these villages (and staying in a village like Ollanaytambo) helped to gain a true understanding of the culture and the manner in which others choose to live.
And speaking of Ollantaytambo, if I were to move to Peru, I would settle here. This quiet, ancient town felt like home as we walked the cobblestone streets at dusk after a long day of visiting Pisac and Moray. With rumbling tummies, we found Pacha Mama for a dinner of pizza and pisco sours, and a quiet balcony all to ourselves to enjoy the night sights and sounds of Ollantaytambo. A local man was playing music in the main dining area, yet, he came up the spiral staircase to visit us and offer his CD for purchase. I couldn't resist taking this night home with me, so I purchased one from him and did my best to compliment him with my limited Spanish speaking abilities.
My mission to see the Southern Cross for the first time was accomplished on our walk back to the hotel from Pacha Mama. A dark alleyway paralleled our hotel, so we sauntered down the pathway just enough to escape the "city" lights. Equipped with my stellarscope, I located this constellation and looked up in wonder. I felt so lost looking at the sky; I couldn't recognize a single constellation as readily as I can recognize them back in the Northern Hemisphere. It's funny how we take a thing like locating the Big Dipper for granted when it is something you can see every clear night in America. Here, I had a hard time recognizing its Southern Hemisphere equivalent…but my quest was complete when I finally found that twinkling group of stars.