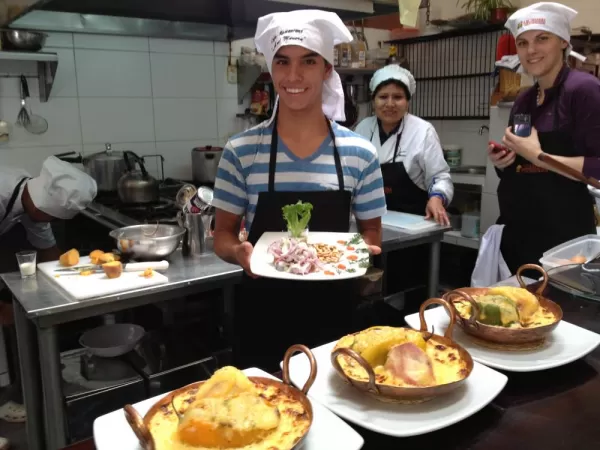 We met our guide Vidal and the owner of A Mi Manera, Marco, in our hotel this morning, then went for a walk through the streets of Cusco. We stopped along the way to try various street food including traditional warm potatoes and a warm and creamy quinoa drink. The food was delicious and served with a smile!
We then walked into the traditional market. Before we stepped in, Marco checked with us to be sure we had strong stomachs (I am guessing not everyone does!). As soon as we entered the market, I could see why he checked. We walked down aisles in the meat section of the market - lined with every part of cow, pig, lamp and chicken you can imagine. They truly don't let any part of the animal go to waste. After walking through the market and learning about all the traditional spices and hundreds, if not thousands, of types of potatoes grown in the Andes, we made our way to the Marco's restaurant. It wasn't yet open to the public for the day, and so we were able to put on our chef's hats and aprons and get behind the bar to make some traditional pisco sours. YUM! It was a little early for a cocktail, but hey, we were on vacation! And cooking is always more fun with a good drink nearby.
After making the cocktails, we got into the kitchen with the chef and her two assistants and we quickly whipped up a variety of traditional dishes. We made ceviche, stuffed peppers and (fire) grilled steak. Of course, it helped that we had three professionals assisting us! The cooks didn't speak English, but with our rough Spanish-speaking skills and our guide to translate, we were able to follow the directions and make a great feast. All was delicious, and I think we made for pretty great chefs! We then got to sit down together and toast our pisco sours and eat all our new dishes! I can't wait to get home to try these new recipes out on my family!