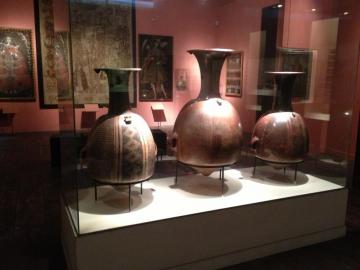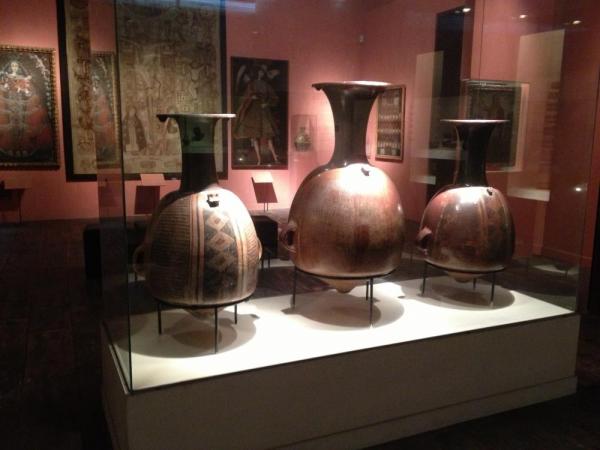 Our cab driver dropped us off outside the Spanish-style colonial building, Museo Rafael Larco Herrera, the private museum displaying artifacts from all across Peru, including gold and silver, ceramics, textiles and even an erotic collection. We walked through the outside doors to a walkway covered in bright flowers. We had decided to just go to the museum on our own, rather than have a guide with us. There were thousands of artifacts to see, and information displayed in each room describing the history of each collection.
As we entered the gold and silver rooms, I realized that even in ancient Inca times, it was all about the bling. One could decorate their whole body with the shiny metals, including earrings, nose rings, head pieces, and even clothing decked out in gold and silver. While they claim it was not just for the elite, I couldn't imagine the average person wearing this much of the precious metals.
We then entered the room that housed all the ceramics and artifacts that the museum had in their collections. It is one of the only museums in the world that allows visitors to view the entire private collection, and certainly the first I had ever seen. It was like being in an old library, with shelves stretching five to six feet above our heads, lined with bowls and cups and plates stacked as high and as far as you could see. Pretty impressive. I couldn't help but wonder how do the artifacts we saw on display in the museum make the cut? What makes one painted bowl more display-worthy than another?
No visit to the Larco Museum would be complete without a stop in the erotica room. I wasn't sure what to expect, but I have to say it was pretty interesting to see all the various artifacts and I was glad we saw it.