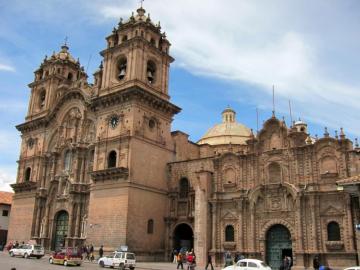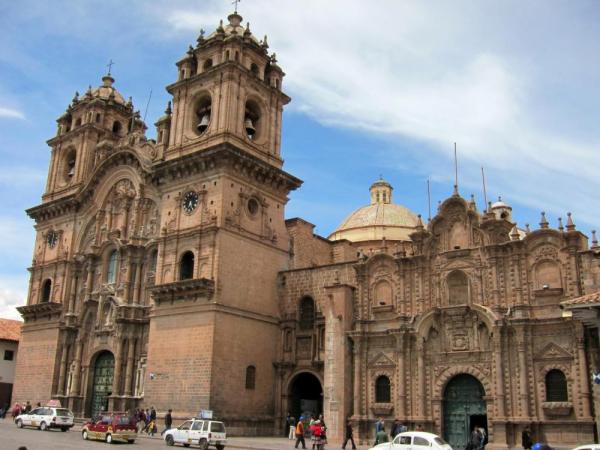 Day 1 of the hike finally arrived. It began pretty early. Not knowing what the next 4 days would be like, I took an extra long shower in the morning and ate a second helping of eggs at breakfast. I also made sure all my gadgets were fully charged. I may be going off to the wilderness, but hopefully I'll stay connected!
Teddy, our guide, arrived promptly at the hotel to pick us up. Although the lobby was packed with other guides, Teddy was very easy to spot as he wearing an Adventure Life hat. Teddy said that the ride to kilometer 82 (9000 ft and start of the Inca trail) would take about 3 hours. I didn't mind the long car ride. The scenery was beautiful. We sped along, enjoying panoramas of snowcapped peaks, farming valleys and lakes. We saw Peruvians (more specifically Quechuans) engaged in daily life- plowing the fields with their cows, commuting to work, talking to friends, etc. Along the way, we stopped in a small town to pick up our chef, Augusto. Teddy directed us to the back of a restaurant that had a "good bathroom." In the back of the restaurant, there was a large hutch full of guinea pigs (aka dinner for some lucky Peruvian!). Poor guys I thought.
We arrived at kilometer 82 late morning. Our porters were waiting on us. I was a little surprised to see how scrawny and small they all looked. I had pictured them to a bit more strapping… after all, they were carrying my gear, my mom's gear, all our food and the various camping supplies (tents, stove, sleeping mats, etc). As we were about to set out, Augusto handed us a bag of three different kinds of (yummy) snacks.
The journey began across a small bridge. On one side of the bridge is "civilization" and on the other, the trail. This is it, I thought to myself, taking a deep breath as I began to cross, once I begin the hike, I'm stuck in the Andean wilderness for 4 days- no phone, no shower, no internet and no coffee.. with my mother!
The Inca gods must have been somewhat sympathetic towards my plight, since the sun peaked out. The weather was perfect for hiking. The initial 5 minutes on the trail started out uphill but it quickly leveled out. As it turns out, Teddy was a naturalist. As he walked along, he spoke of the various types of floral and fauna. Time passed quickly as we walked (a few ups, followed by a few downs, but nothing too challenging) and talked. I was enjoying our discussions with Teddy so much I kept my ipod tucked away. After two hours, we passed the archeological ruins of Patallaqta. These ruins are flanked by lush green terraces and the snowy giants of the Andes. Truly a spectacular sight!
As we continued along, I was surprised at how busy the trail was. Besides other hikers and guides, it bustled with porters, indigenous town people, llamas, horse, donkeys and the occasional pig. We passed through several small towns where you could buy soft drinks, candy bars and even souvenirs from some enterprising Peruvians.
Although Teddy said we were walking pretty fast, I note our porters quickly passed us. I quickly changed my initial impression of these men. Shod only in sandals, they speed along the trail with the 50 pounds of equipment on their backs like it was nothing.
Sometime around 2pm, we arrived at clearing for lunch. The porters had set up a large tent which was divided into two sides: dining and kitchen. Augusto had changed into a chef's uniform, complete with chef's hat. A pleasant smell was wafting out the "kitchen" side of the ten. We waited in the dining side. The table was set, the napkins were folded into a fish type shape and there were condiments galore on the table. Lunch consisted of buttery bread, a hearty soup and a chicken vegetable rice dish. I hesitantly tried each dish. The food was EXCELLENT!
After such a great meal, I needed a nap, not a hike. Alas, Teddy would not let us take naps, so we had to keep moving. We left the porters and Augusto to dismantle the camp and continued along the trail. Once again, I thought we were walking along at a fairly good pace. Apparently not fast enough since our porters soon passed us, continuing on to our campsite.
We arrived at our campsite in Huayllabamba around 4:30. The porters had already set up two sleeping tents and once again the large dining/kitchen tent. My mom and I shared a tent. Our tent had two sleeping pads and was large enough for another person. Interestingly, our campsite had a bathroom. This bathroom was unlike any I've ever experienced in the USA. A small building with a hole in the ground. In addition, there was horse tied up to it. (Later I would discover this was one of the nicer bathrooms along the trail).
My mom and I rested before dinner. Our tent had a spectacular view of the Andes. We unzipped the door and stared as the evening mist began to fill in, shrouding the mountains. Roughly 30 minutes before dinner, one of the porters knocked on our tent. He had two containers of steaming hot water to wash up with. What service!
Dinner was very similar to lunch; more delicious bread, a vegetable soup and trout, lightly breaded, accompanied by mashed potatoes. Once again, Augusto had prepared a fantastic meal. After dinner, Teddy told us about the next day's hike. "Possibly the most strenuous – 4 hours up and then 2 hours down" he said. I thought perhaps Teddy was exaggerating. After all, the day one's hike was pretty easy.
We finished dinner around 7. I quickly discovered your evening ends pretty early along the Inca trail. My mom and I retreated to our tent. She promptly fell asleep. I read for a bit but think I probably went to sleep around 8. My phone, which appeared to have service most of the day, mysterious lost its signal. It was not totally useless. When I woke up in the middle of the night (ie, 11pm) to use the restroom, I was able to use it as an extra flashlight to help shoo the horse away from the bathroom.