Have questions? We're here.

Get inspired by the possibilities.
Build your ideal trip.
Kuril Islands
Example 15 Day Cruise aboard Sylvia Earle
On this 15-day expedition aboard the Sylvia Earle, discover the nutrient-rich waters washing the 'Pacific Rim of Fire' teem with marine life, from sea otters to harbor seals, Steller sea lions to orca, Dall's porpoise to beaked, and sperm whales. The islands form a natural 'flyway' for migratory birds, including horned and tufted puffins, whiskered and rhinoceros auklets, and exquisite little murrelets. From Japan to Kamchatka, zodiac into flooded calderas, beneath soaring bird cliffs, to landings where brown bears fish for salmon. The fittest may even attempt to attempt to climb a volcano. Every day brings a new adventure.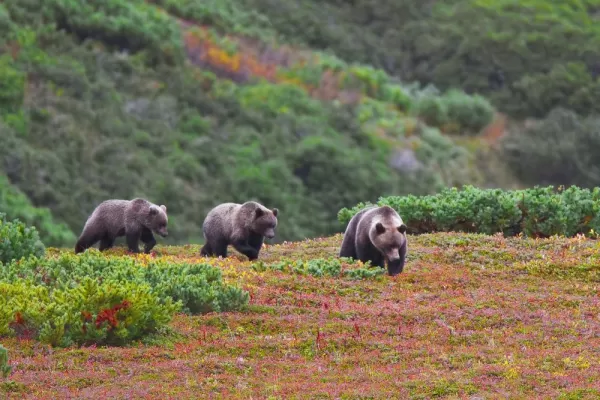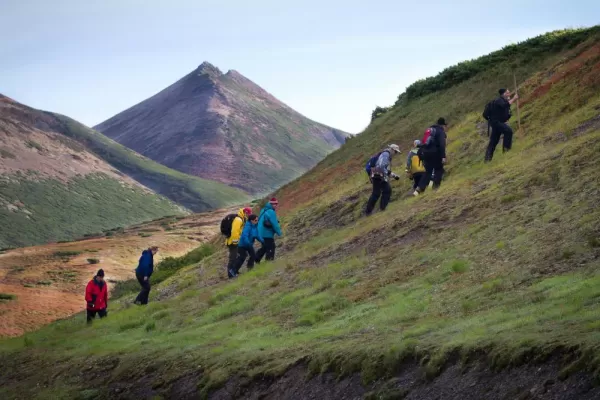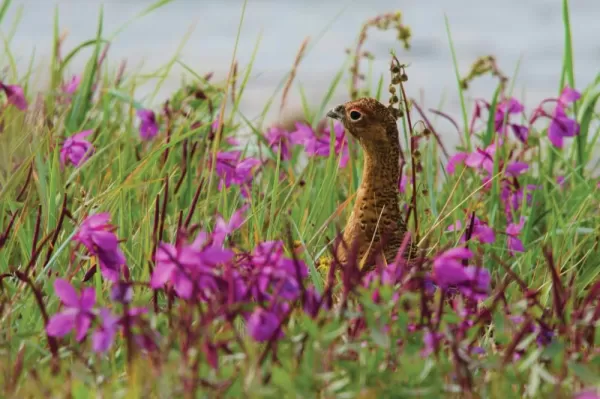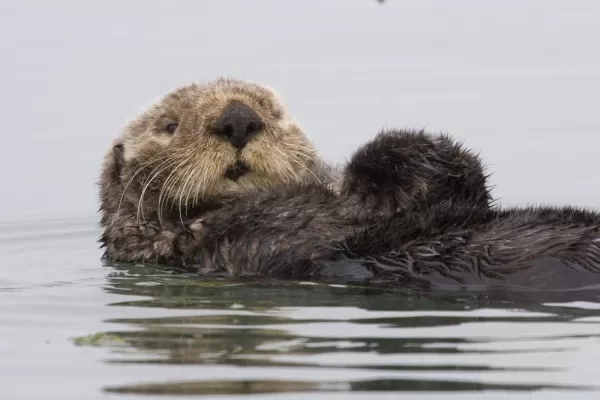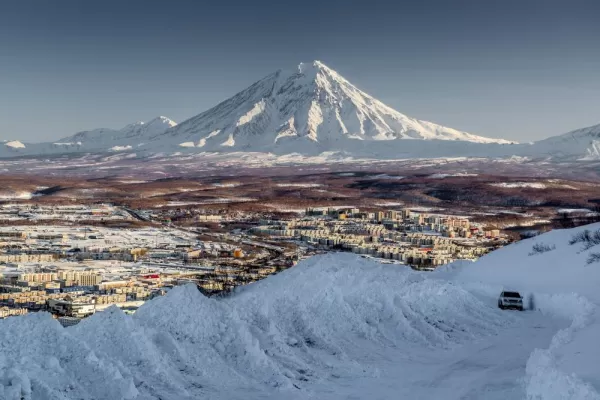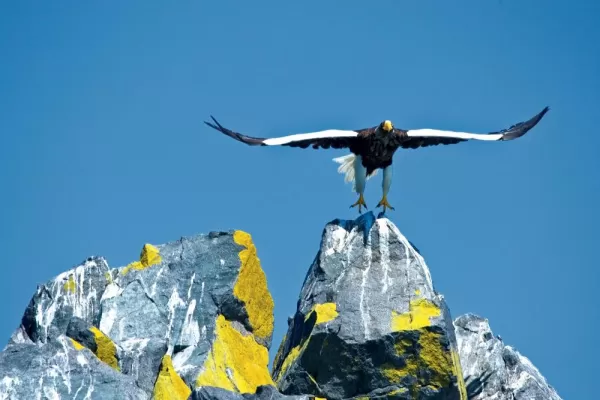 Explore the Kamchatka Peninsula and Kuril Islands
See one of the world's richest wildlife areas in species and abundance
Discover the cultural and Soviet history of the Ring of Fire
Experience unique volcanic landscapes and geothermal activity
Trek coniferous forests, grasslands, lava fields and active volcanoes
Atlasova Island
Chirpoy
Ekarma
Kamchatka
Kuril Islands
Onekotan
Otaru
Petropavlovsk-Kamchatskiy
Shiashikotan
Shumshu
Tyuleniy Island
Urup
Yankicha
Full Itinerary
Expand All
Day 1: Tokyo
Upon check-in at Hotel Nikko Narita Airport, reception staff will provide you with cabin tags. Please fill out the luggage tags clearly, showing your name and cabin number to allow them to deliver your luggage to your cabin ahead. At the voyage briefing, enjoy a welcome drink and meet fellow expeditioners, before spending the night in preparation for your charter flight to Petropavlovsk-Kamchatskiy.
Day 2: Petropavlovsk-Kamchatskiy | Embark
Board your charter flight to Petropavlovsk-Kamchatskiy to embark the Sylvia Earle. After boarding, there is time to settle into your cabin before the important safety briefings. This evening meet your expedition team and crew at the Captain's Welcome Dinner.
Day 3-4: Russkaya Bay | Vestnik Bay
2 Breakfasts, 2 Lunches, 2 Dinners
Lush valleys and snow-capped volcanoes welcome you to Kamchatka's east coast, where brown bears feast on berries and salmon. In Vestnik Bay, we explore the coast of Utashud Island by Zodiac, home to shy otters, Steller sea lions, seabirds and Kamchatka brown bears. Rounding Cape Lopatka, Kamchatka's most southern point, you land in Kambalnyi Bay, to stretch your legs beneath the magnificent 2,161m volcano, Kambal'naya Sopka. Across Kuril Strait, cruise kelp beds off Shumshu Island in search of curious otters ferrying pups, and the bobbing heads of spotted seals. Explore the bird cliffs of Ptichi Islands alive with puffins.
Day 5: Shumshu Island | Atlaslova Island
1 Breakfast, 1 Lunch, 1 Dinner
Ashore, on Shumshu, a peaceful river snakes through grassy wetlands where lady-slipper orchids and wild roses bloom. On Atlasova, land beneath a wind-sculpted hill of volcanic ash to explore remains of a Soviet gulag in the shadow of a near-perfect 2,339m volcano, Alaid, the highest in the Kurils. Watch for nesting cormorants, buzzards, Eurasian wigeons, and tufted ducks, while peregrine falcons sometimes soar above the beach.
Day 6: Onekotan Island
1 Breakfast, 1 Lunch, 1 Dinner
Hike across Onekotan's tundra, as it wakes to summer, and through bonsai pine forests to Black Lake, watching for red foxes and remains of Ainu dwellings. From Onekotan Island, explore the coastline of nearby volcanic Kharimkotan or Makanrushi Islands by Zodiac.
Day 7: Ekarma Island | Shiashkotan Island
1 Breakfast, 1 Lunch, 1 Dinner
Explore Ekarma, sanctuary to many birds, including puffins, auklets, fulmars and cormorants. Sea otters swim just off the northeastern cape. Vast nesting colonies of storm petrels and remains of Ainu villages await you on Shiashkotan.
Day 8: Srednego Islands | Lovyshki Island
1 Breakfast, 1 Lunch, 1 Dinner
Zodiac cruised around the rugged columnar stacks of the Srednego Islands, home to thousands of nesting seabirds including northern fulmars, guillemots, black-legged kittiwakes, and whiskered auklets. Nearby Lovyshik Islands are small, often fog-bound, rocky islets where you are approached by boisterous Steller sea lions northern fur seals.
Day 9: Broutana Bay | Yankicha Island
1 Breakfast, 1 Lunch, 1 Dinner
Explore the ghostly remains of a secret Soviet Navy base at Broutana Bay on Simushir Island. The northern tip of the island is a large volcanic caldera, similar to the one found on Yankicha Island, but a lot bigger. The Broutana Bay caldera is over 2 miles (3.2 kilometers) wide, but unlike Yankicha, the Simushir volcano is not active; it is extinct. It's alleged that the Russian Navy used explosives to create a channel into the caldera to allow the submarines to access Broutana Bay. The channel is only 9 meters (28 feet) deep and 33 meters (100 feet) wide. The weather has to be unfoggy and the sea must be relatively calm for the captain to be able to skilfully steer the vessel into the caldera. Inside the caldera lie the remains of the secret submarine base that once housed some 3,000 people. The weather can change very quickly here and fog often rolls in suddenly making it difficult if not impossible to enter the caldera. If you're already inside the caldera, the fog can trap you inside. A visit to Broutana Bay is completely weather-dependent, so here's hoping for favorable weather on the day.

After then aim for Yankicha Island's caldera. Intriguing and beautiful, Yankicha island hides a flooded volcanic caldera of emerald green waters. Accessible by Zodiac only at high tide, the lagoon, offers fumarole fields, hot springs and bubbles rising from the seafloor. Walk to the crater rim in search of blue foxes, while at dusk, watch as spectacular concentrations of crested and whiskered auklets stream back from the sea.
Day 10: Brat Chirpoyev | Chirpoy Island
1 Breakfast, 1 Lunch, 1 Dinner
Evocative mists often engulf Chirpoy islands, lifting to reveal dramatic basalt columns of Brat Chirpoyev as you approach by Zodiac, surrounded by thousands of northern fulmars, kittiwakes, the odd puffin and sea otters. Otherworldly roars herald the Steller's sea lion colony on Chirpoy, with the promise of a hike up the flanks of an active volcano when you land.
Day 11: Bliznecy Island | Novokuril'skaya Bay (Urup Island)
1 Breakfast, 1 Lunch, 1 Dinner
Urup offers 120 kilometers of stunning volcanoes, lush vegetation, lakes and rivers. Cruise the 'Twins', a geological wonderland of twisted basalt sea cliffs, hike to Japanese bunkers with spectacular views and tufted puffin nests. On the west coast, you may Zodiac through basalt tunnels of Petroskov Rocks.
Day 12: Tyuleniy Island
1 Breakfast, 1 Lunch, 1 Dinner
Meaning seal in Russian, Tyuleniy attracts as many as 250,000 individuals that gather here each summer during their breeding season. Be greeted by a cacophony of barks as you approach the island by Zodiac. Search the sea cliffs for nesting black-legged kittiwakes; crested, whiskered and rhinoceros auklets; tufted puffins, common and thick-billed murres, and ancient murrelets.
Day 13: Moneron Island
1 Breakfast, 1 Lunch, 1 Dinner
Located in the Sakhalin Oblast region, Moneron Island is an uninhabited nature reserve that features a fascinating mix of both Russian and Japanese monuments and landmarks including a Japanese Shinto temple, pedestrian bridge, a Russian cemetery and the remains of a Soviet frontier post dating back to the 1940s. The clarity of the water surrounding Moneron Island comes from the pure water that flows directly from the mountains into the sea. On walks and by Zodiac, we discover the island's waterfalls and rock shelters, and search for kittiwakes, black-tailed gulls, cormorants horned puffins, and the rare long-billed sea parrot.
Day 14: Korsakov
1 Breakfast, 1 Lunch, 1 Dinner
At Korsakov, at the southern tip of Sakhalin Island, clear Russian customs for entry into Japan. For much of its history, control of Korasakov oscillated between Japan and Russia, until the town was ceded to the Soviet Union at end of World War Two. You might explore the port town while the Sylvia Earle finalizes its exit clearance before departing for Otaru, Japan.
Day 15: Otaru | Disembark
Disembark in the harbor city of Otaru, Hokkaido. Transfer to Sapporo to continue your journey.
Dates & Prices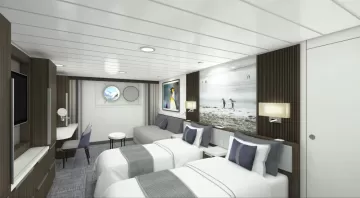 Select a Date
Aurora Stateroom Twin
215.27 ft2 - There are two Aurora Stateroom Twin cabins featuring portholes, all with private en-suites. Located on Deck 3, they're close to the mudroom and loading platforms, perfect for adventurers who are looking for a comfortable base that's close to the action. May be converted into a Triple Share cabin with additional bed on request.
Select a Date
Aurora Stateroom Superior
194.82 ft2 - Located on Deck 7, the Staterooms feature french balconies, floor to ceiling windows, en-suite bathrooms and a comfortable desk area. Perfect for polar adventurers who travel with plenty of gear.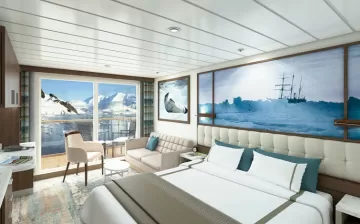 Select a Date
Balcony Stateroom C
180.83 ft² - 301.38 ft2 - 11 Balcony Stateroom C cabins - most economical, fitted with all the necessities and comfortable for up to 2 people. These cabins are scattered throughout Deck 6.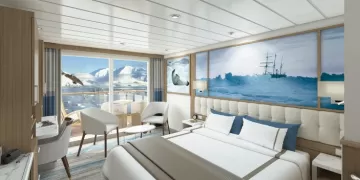 Select a Date
Balcony Stateroom B
180.83 ft² - 301.38 ft2 - 17 Balcony Stateroom B Cabins - standard cabin, many fitted with interconnecting features making them great for families or groups. These cabins are located at the fore and aft of Deck 4 and 6.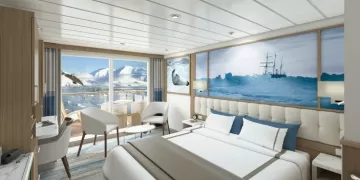 Select a Date
Balcony Stateroom A
80.83 ft² - 301.38 ft² - 23 Balcony Stateroom A cabins - premium cabin, and the most abundant on board. These cabins are located in preferred positions on Deck 4 and 6 which provides easy access between Decks via the internal stairs or elevator.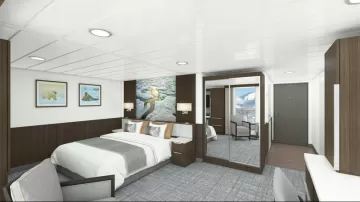 Select a Date
Balcony Stateroom Superior
284.16 ft2 - 335.83 ft2 - Located on Deck 4 and 6, the Staterooms feature floor to ceiling windows, en-suite bathrooms and a comfortable desk area. Some of these rooms are equipped with wheelchair accessible bathrooms.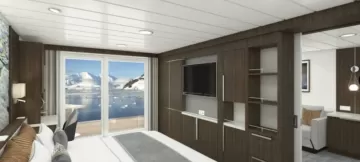 Select a Date
Junior Suite
420.76 ft - 4 Junior Suites take in some impressive scenery from their vantage points on Deck 7. When you aren't enjoying a landing, you can relax in the suites' separate lounge area, or just watch the world float by from the private balcony.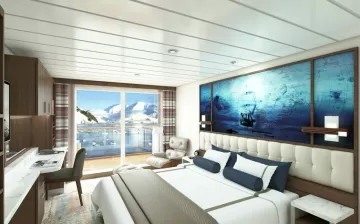 Select a Date
Captain's Suite
437.01 ft2 - Captain's Suite - the largest of all our rooms, will take you to the polar regions in ultimate style and comfort. Complete with large lounge area, balcony, walk-in wardrobe and en-suite, you'll need to get in early to secure this suite.
Notes

Important note: In the genuine spirit of expedition travel, we encourage exploration and adventure offering flexibility in challenging environments. This itinerary is only a guide and is subject to change due to weather, sea and other conditions beyond our control.
Inclusions
One night's hotel accommodation at Hotel Nikko Narita Airport including breakfast on day 1
Charter flights: Tokyo-Petropavlovsk-Kamchatskiy
Transfer from airport to pier in Petropavlovsk-Kamchatskiy on day 2
Transfer from Otaru pier to Sapporo airport on day 15
Onboard accommodation during voyage including daily cabin service
All meals, snacks, tea and coffee during voyage
Beer, house wine and soft drinks with dinner
Captain's Welcome and Farewell reception including four-course dinner, house cocktails, house beer and wine, non-alcoholic beverages 
All shore excursions and Zodiac cruises
Educational lectures and guiding services from expedition team
Complimentary access to onboard expedition doctor and medical clinic (initial consult)
A 3-in-1 waterproof polar expedition jacket
Complimentary use of muck boots during the voyage
Comprehensive pre-departure information
Port surcharges, permits and landing fees
Gratuities for ship crew
Exclusions
International or domestic flights not mentioned in the itinerary
Transfers not mentioned in the itinerary
Airport arrival or departure taxes
Passport, visa, and vaccination charges
Travel insurance or emergency evacuation charges
Hotels and meals not included in itinerary
Optional excursions not included in the itinerary
Optional activity surcharges
All items of a personal nature including but not limited to: alcoholic beverages and soft drinks (outside of dinner service), laundry services, personal clothing, medical expenses, Wi-Fi, email or phone charges
Inquire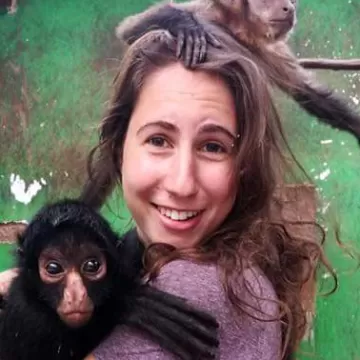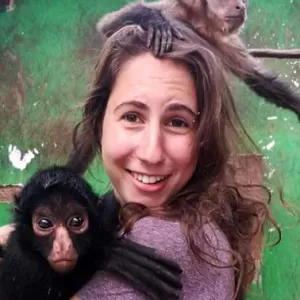 We Love to Talk Travel
Call
1.800.344.6118
or
Chat Now
Our guide and driver were very good with their knowledge and were very helpful with our questions. It was a very pleasant visit that would have been impossible to do on our own. Hotels and restaurants were fantastic. The special places we got to go to, like the kitchens, were great. Enjoyed the entire trip!
Meyer Smolen
Russia Travel Guide
Favorite Russia Cruises