Now that we've spent two nights in the Thornybush Reserve, it's time to explore the nearby Timbavati Reserve.  Timbavati shares opens borders with Thornybush as well as Kruger National Park, so animals can traverse massive areas and access different types of habitat.  Our home in Timbavati is the Simbavati River Lodge, located in the northern sector.  Here, there are fewer lodges – the area our game drives traverse is 12,000 hectares and will never have more than 25 vehicles on it at any given time.  That means uncrowded game sightings and the feel that you are the only vehicle out in the bush.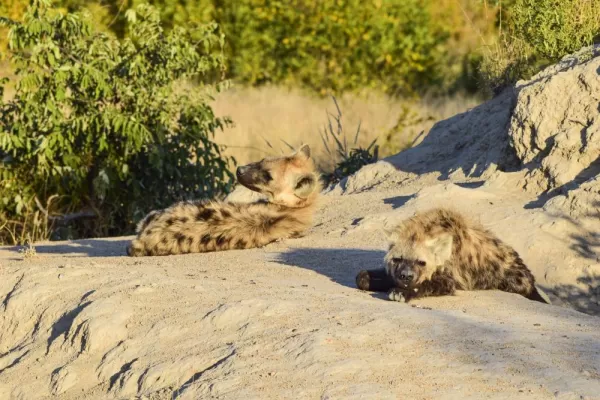 Simbavati River Lodge feels like family.  It's homey and laid-back, with plenty of amenities to keep you comfortable (fitness room, spa, A/C in tents) without being pretentious.  River Lodge has a ton of wildlife on the premises: a great choice for those wanting an immersive experience.  Within the first hour, we see a large herd of elephants crossing the river right in front of the lodge.  We have ellies in camp, as well as an enormous giraffe outside our tent, warthogs, waterbuck and bushbuck.  The river runs year round, so wildlife spottings from the lodge are abundant.   
After a fresh and delightful lunch, we are off on our first afternoon game drive.  Our guide/tracker team at River Lodge is Stefan and Nicholas.  Stefan is quite the wildlife photographer and helps with my settings after hearing me bemoan my rather basic DSLR camera.  We head to the river, where we find a herd of elephants right off the bat.  A youngster is playing a game of cat-and-mouse with an egret, who is not amused.  The egret shows zero interest, thereby winning the game.  The baby elephant moves on to a smaller bird to play with.   Next, we are off to visit a hyena den, which rewards us with two young hyenas basking in the late afternoon sun.  They leave us to wander off, but not before giving us some lovely photographs.  After our sundowners, we are rewarded with a sighting of an African Wild Cat, which is very elusive.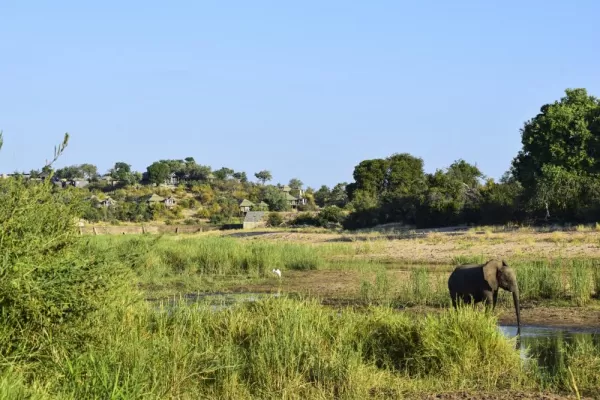 The morning game drive yields the first big cat spotting of the trip.  We spend the morning with 4 lions from the River Pride.  They are younger lions of mating age, which is obviously what the males have in mind, though the females are full from a large meal and not interested.