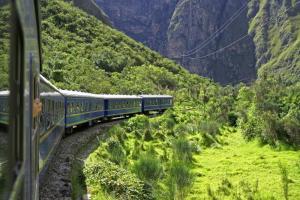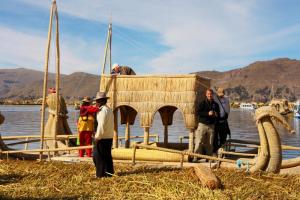 Starting off our staff travels for 2010, Adventure Life's fantastic office manager and gate-keeper, Lynessa Nelson, is readying for a Peru adventure with her husband, Matt. Next week, Lynessa and Matt will hop on a plane from the Missoula airport to Lima, Peru. The first leg of their Peru journey is on the floating reed islands of Lake Titicaca, where they will spend time with a
host-family on Amantani Island
. Peru's floating islands are built using the buoyant totora reeds that grow along Lake Titicaca, and these reeds are interwoven to make homes, boats, and crafts ... and islands. Cusco, the Sacred Valley and Machu Picchu are next on their agenda. Lynessa and Matt will be taking one of our travelers' fan favorites -- our
Machu Picchu by Train trip
. Along with a few days exploring world famous Machu Picchu, the Inca ruins of Sacsayhuamán, Pisac and Ollantaytambo are also on their list of must-sees. Finishing their trip with a handful of days in Cusco, Lynessa will have a chance to practice her Spanish and do a little bargaining at the witches' market.
Lynessa will add Peru to her list of international adventures -- a list that also includes Costa Rica, Nicaragua, Guatemala, Mexico, Scotland, UK, Spain and Canada.
The Nelsons promise me both a fantastic journal and surprising photographs of their journey. Can't wait!
Oh, and a quick note to Lynessa -- On the edge of Cucso's Plaza de Armas is a frequented Gato Market. A very convenient market for the gringo and a good place to stock up on water or day-snacks or any little item you may have forgotten to include in your suitcase. As a special bonus -- right outside the market is a lady who sells fresh, hand-made tamales. I understand she's been in that same spot for years. The tamales? Fantastic. Forgive me, but I cannot remember her name.
Wishing you safe and happy travels, Lynessa and Matt!